Aircraft Maintenance Control Coordinators
Aircraft Maintenance Control Coordinators
STS
--- STS Technical Services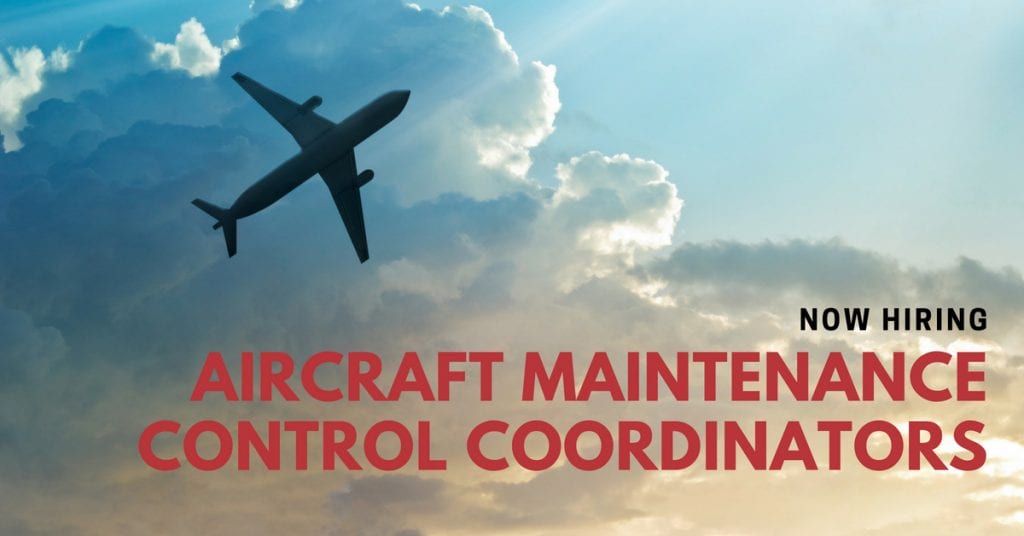 STS Technical Services is currently hiring Aircraft Maintenance Control Coordinators in Denver, Colorado.
Job Summary:
Manages and controls maintenance operations on a shift basis in order to provide safe, compliant and reliable operations. Is the primary point of contact regarding aircraft out of service and the current mechanical status of all aircraft in company's fleet.
Job Duties:
Directly in charge (121.378(b)) of all maintenance activities performed by contract maintenance personnel to ensure strict compliance with Company General Maintenance Manual policies and procedures
Provides technical guidance to maintenance personnel and is available for consultation and decisions on technical, operational and procedural matters
Has the authority to remove an aircraft from service if maintenance work is not satisfactorily completed
Ensures safety is the paramount consideration in all decisions and that Company aircraft are maintained to uncompromising safety standards at all times
Promotes and model Company's Mission and Values when interacting with colleagues and contract maintenance providers
Authorizes the use of maintenance vendors for emergency maintenance and ferry flight inspections in non-maintenance stations
Authorize MEL/CDL deferrals in accordance with the procedures outlined in Company's General Maintenance Manual
Develops work scopes for MEL/CDL deferrals recommending necessary troubleshooting steps and requisitioning required materials
Promotes a different and better customer experience by proactively managing deferrals that impact customer service
Coordinates aircraft out of service events with Maintenance, Material Services, Technical Support and Engineering to reduce schedule impact and aircraft downtime
Advises SOC personnel on routing requirements of specific aircraft when the nature of the work demands that it be accomplished at a specific station
Maintains positive operational control and situational awareness of out of service aircraft
Generates reports on delays, cancellations, out-of-service and other performance data for management information
Maintain a shift log of all communications pertaining to out-of-service aircraft and critical or damage events
Provides sufficient turnover to on-coming personnel so they are familiar with all work in progress and all items requiring follow up
Maintains a shift log including documentation of aircraft worked on during shift
Reviews prior shift logs and is familiar with previous shift activity
Other duties that maybe assigned by the M.O.D. or Senior Manager of the Department
Reports to: Senior Manager MCC / Maintenance Planning, Technical Services
Requirements:
Knowledge of airline maintenance practices, federal aviation regulations, and Company's General Maintenance Manual policies and procedures.
Airframe and Powerplant License is required
FCC First Class Radio Telephone Certificate preferred
Requires 5 years of Line Maintenance experience or 2 years C-Check experience and 2 years avionics troubleshooting experience
Previous experience as a maintenance supervisor preferred
Previous factory approved training on Airbus 318/319 aircraft preferred
Must demonstrate behavior that portrays the company core values of Safety, Respect, Trust, Collaboration, Value, and Passion while communicating with personnel and acting on behalf of the company
Must have the ability to plan, organize, and administrate workloads to subordinates
Must attend and successfully complete Maintenance Training Required Inspection Item course
Knowledge, Skills & Abilities:
Excellent Airbus systems knowledge and troubleshooting skills
Must have excellent written and oral communication skills, and be able to interface effectively with Engineering, Maintenance, Purchasing, Flight Operations Management, Flight crews, and Dispatchers effectively
Benefits:
Since this is a direct hire job, our client will provide a full benefits package to you. If you would like to learn more about that package, please call 1-800-359-4787.
Thanks for taking the time, and we look forward to hearing from you soon.