Avionics Bench Technicians
2023-03-03
2023-03-03
USD
00.00
HOUR
Avionics Bench Technicians
STS Technincal Services
--- Website STS Technical Services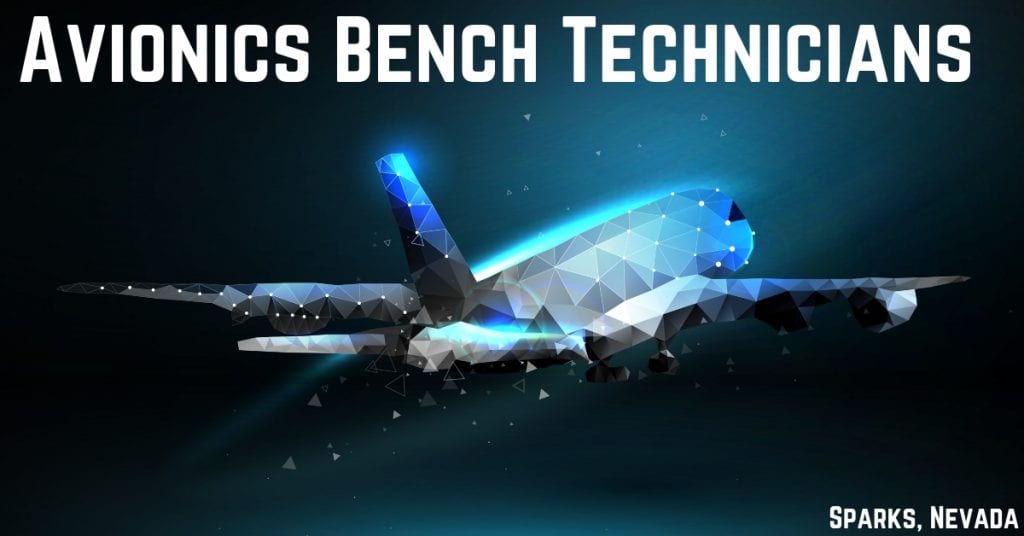 STS Technical Services is hiring Avionics Bench Technicians in Sparks, Nevada. Our client is an FAA Certified Repair Station engaged in the business of repairing Accessories, Instruments, and Radio Equipment used on commercial aircraft.
Our client serves variety of customers in the aerospace industry such as Cargo Airlines, Passenger Airlines, and Brokers – and our customers are everywhere from Alaska to Taiwan.
To provide more insight into the type of equipment our client tests and repairs, customers commonly send them:
Weather Radars used on the MD80, 737, and 757
Anti Skid Systems used on the 737, 757, 767, and MD80
Flight Control Computers used on the 737
Instruments from a wide variety of Boeing and Airbus Aircraft
Navigation and Communication Equipment found on Commercial Aircraft
Employees inspect, disassemble and clean the units assigned to them. They will re-assemble and test them, troubleshooting and repairing any faults they discover during the testing. Technicians use a variety of equipment to troubleshoot the failures, and frequently replace individual components on the circuit assemblies to restore the unit to serviceable/useable condition. This means you need to be familiar with troubleshooting circuit cards and assemblies, and replacing components such as resistors, capacitors, and diode.
Applicants must meet the following requirements to be considered a qualified candidate:
Ability to read/write English
Ability to read/comprehend schematics
Have a technical background/mindset
Understand the Theory of Electronics
Able to identify commonly used electrical components
Have experience performing component level repairs (including the ability to Solder, as well as the experience using common tools used in this industry)
Applicants that have recent experience working at another 145 Repair Station are preferred – and if your experience is at an OEM like Honeywell, Rockwell Collins, or BAE Systems, you should submit your resume.
This listing is advertising the open position of an Avionics Bench Technician – with an emphasis placed on Bench. Our client does not perform any line maintenance or operate an FBO. This position does not require an A&P License nor should you apply if you are looking for a position that does on-wing/field repair.
Our client does not manufacturer any products. This position is open to candidates across the United States – and relocation assistance may be provided (although is not guaranteed).
To be considered, you must submit a cover letter with your application. The cover letter must contain a brief summary of your relevant experience, in addition to your salary requirements.
Your resume must be detailed enough to provide a complete picture of your work experience. Specifically, we would like to see what type of equipment you have repaired, AND what equipment you have used during the course of troubleshooting and repairing. If your resume does not contain this information, it is in your best interest to take a few minutes to include it – otherwise your resume will be rejected without any further consideration given.
If you have questions, or if you'd like to work with a recruitment specialist directly, please call 1-800-359-4787.