Abrams Tank Mechanics
STS
--- STS Technical Services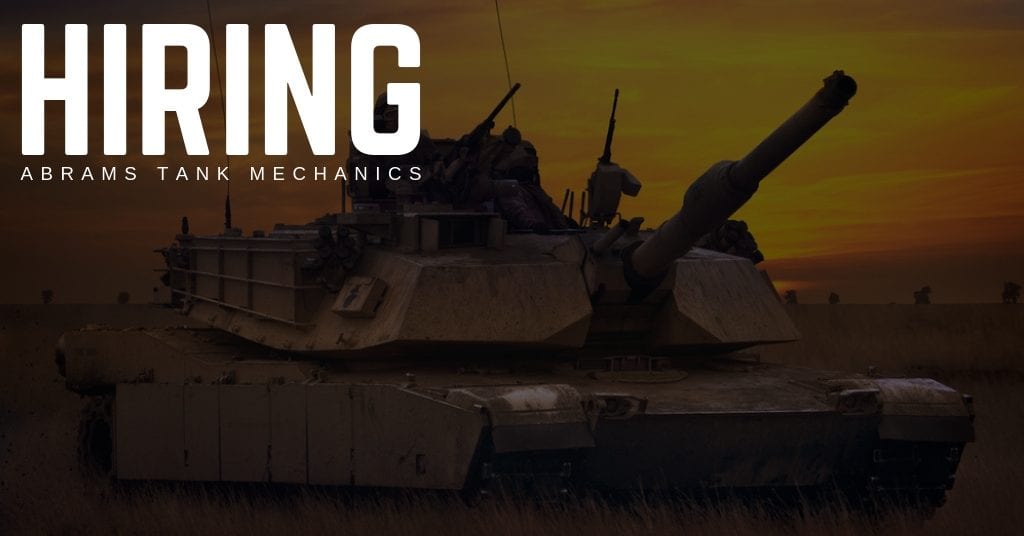 STS Technical Services is hiring Abrams Tank Mechanics in Ft. Hood, Texas.
In this role, you will work to repair Abrams tanks and troubleshoot all aspects of the engine, communication systems, parts/components. You will also work to provide input to program planning, schedules, and maintenance techniques of the Abrams fleet of vehicles and other traced/wheeled variants. This is a tremendous opportunity to work for a company that holds industry leading standards for defense and also is on the leading edge of an industry boom.
Contract Length: Runs until February 2020.
Essential Duties & Responsibilities:
Perform preventive maintenance checks and services on variations of the Abrams Tanks (M1A1ED, M1A2SEP V2) as well as familiar with the deprocessing and maintenance tasks on the variations of the Abrams Tanks (M1A1 ED, M1A2 SEP V2) vehicles for the Material Fielding Team (MFT) at Ft. Hood.
Perform trouble shooting specific faults, failures and deficiencies.
Read and interpret troubleshooting and diagnostic procedures and flow diagrams for systems, subsystems and components.
Maintain accountability of special tools, test equipment and property.
Qualifications:
1-plus years related experience in truck mechanics with emphasis on the Abrams tank

Must have overall understanding of customer contacts and relationships

Be able to work autonomously with government personnel.
Must be able to gain access to US Military Facilities or bases, including a NACI if required
Must be able to travel away for extended periods.
Efficient knowledge of Microsoft Applications
Required to work at heights, lift and carry up to 50 pounds, able to climb, kneel, stoop, bend and work in extreme temperatures and weather conditions
Ability to meet Anthropometric size requirements to enter into a drivers station or enclosed military vehicle

Valid Drivers License is required with the ability to get a tank drivers license if required
Benefits:
STS Technical Services offers direct deposits / electric payroll, an awesome medical insurance program, cash advances, and the opportunity to refer a friend for compensation.
Have questions? Give us a call at 1-800-359-4787.
Thanks for taking the time, and we look forward to hearing from you soon.