Administrative Support Specialists
Administrative Support Specialists
STS
--- STS Technical Services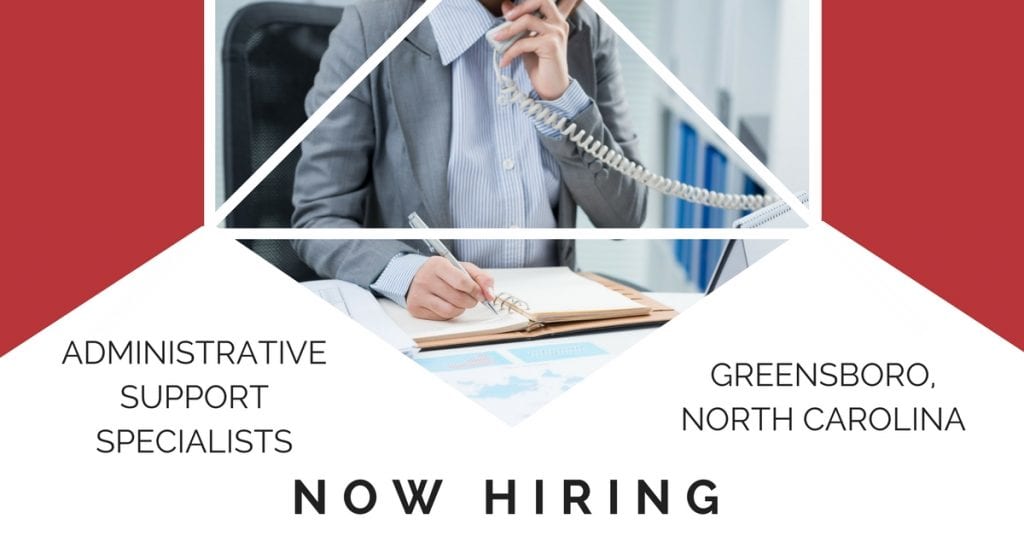 STS Technical Services is hiring Administrative Support Specialists in Greensboro, North Carolina.
Note: Our staffing services come at no cost to you, the candidate. This is job seeking made simple! For more details, please contact our recruiters at 1-800-359-4787.
Job Summary:
The Administrative Support Specialist role will provide administrative support for the sales team and assist with the planning and coordination for all sales related activities and events.
Job Duties:
Maintains the calendar of the department leader(s), ensuring that all appointments and meetings are clearly documented and are up-to-date at all times (times, locations, nature of appointment / meeting)
Tracks the status of, compiles, and reports company data including department goals, benchmarks, achievements and other data as needed
Develops internal communications relevant to the department, as directed by the department senior leader
Prepares presentation materials for the department or department leader(s) including spreadsheets, reports, presentations, technical papers etc.
Organizes and coordinates departmental activities and events including placing catering orders, setting up, and cleaning afterward
Adheres to budget or guidelines established by the department leadership regarding: expense budget, type of food for catering etc.
Manages purchase orders related to departmental needs, merchandise, collateral and customer gifts
Coordinates travel including booking travel tickets and accommodations, researching and securing appropriate travel visas, and processing expense reports as needed for the department management team
Maintains a high level of responsiveness to team needs by demonstrating excellent attendance and productivity, including arriving on time for scheduled shifts, remaining focused and attentive throughout the entire work shift, and working overtime as instructed by management
Handles sensitive or confidential data in a professional manner respecting policies, protocols and requirements for confidentiality and/or discretion
Provides support as needed for domestic and international trade shows, events and customer related visits
Functions as a professional representative of his/her team when interfacing with others within and outside of the department
Acts proactively in providing additional administrative support when needed and/or as requested by department leader(s)
Qualifications:
Bachelor's degree in Business Administration or a directly related field
Management may elect to consider candidates with a combination of equivalent work experience, education and training in lieu of a bachelor's degree
5 years' of directly applicable work experience supporting a team in a fast paced corporate environment is required
Prior experience in aviation/aerospace a plus
Prior experience supporting a sales team for a luxury product class is a plus
Prior experience in event planning is a plus
Excellent oral and written communication skills; Multi-lingual fluency is a plus
Strong organizational skills and attention to detail
Intermediate to advanced level proficiency in Microsoft Office – Word, Excel, PowerPoint, is required
Ability to travel domestically and internationally as needed and directed by management is required
Ability to communicate effectively throughout all levels of the company and with external high net worth customers and business partners
Ability to work independently or within a team oriented environment
Ability to multitask
Ability to display respect for other cultures, customs and norms while interfacing with a diverse management and employee team
Ability to develop positive, effective, and professional working relationships with individuals both internal and external to the organization
Ability to display a "team approach" to job duties, proactively volunteering to help when needed although required work may not regularly be part of the administrative staff job duties
Benefits:
Since this is a direct hire job, our client will provide a full benefits package to you. If you would like to learn more about that package, please call 1-800-359-4787.
Thanks for taking the time, and we look forward to hearing from you soon.