2023-03-14
2023-03-14
USD
00.00
HOUR
Aircraft Inspectors
STS Technincal Services
--- STS Line Maintenance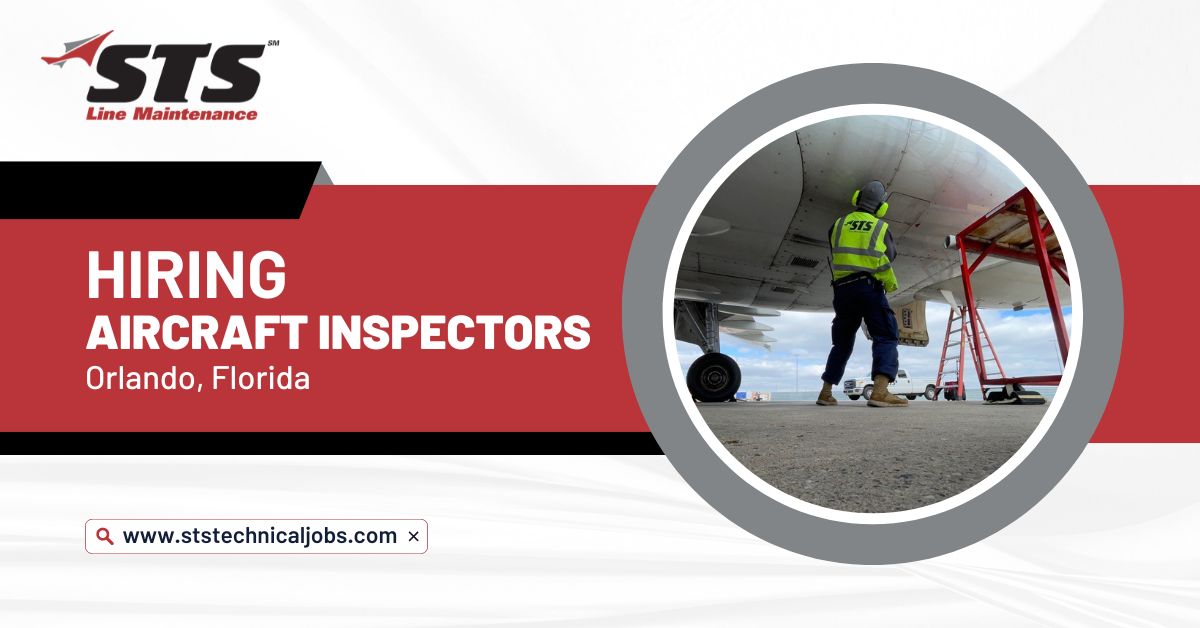 STS Line Maintenance is hiring Aircraft Inspectors in Orlando, Florida.
Hiring Note: All candidates must currently be authorized to work in the United States.
Position Summary:
STS Line Maintenance is looking for highly motivated Aircraft Inspectors to help us grow our line maintenance station in Orlando, FL. The Aircraft Inspector supports the daily needs of the maintenance operations for our customers and ensures an outstanding experience by providing top-level service.
Responsibilities:
Performs inspection functions according to customer's Continuous Airworthiness Maintenance Program (CAMP) and FAA Regulations to ensure flight safety and airworthiness of customer's aircraft.
Always follow (never deviate from) approved published procedures unless proper deviation approval is authorized.
Perform proper Required Inspection Item (RII) inspections and documentation thereof in accordance with customers Continued Airworthiness Maintenance Program (CAMP) and FAA Regulations.
Perform Line Maintenance/RON and Receiving Inspections when requested.
Monitor maintenance, workmanship, and materials to verify compliance with applicable approved published procedures.
Perform in-process inspections of work performed to include documentation.
Audit completed aircraft records (e.g., logbook pages, work cards, non-routines, Engineering documents (EOs, EAs, etc.) and other related documents) generated by RON and Line Maintenance.
Ensure accuracy and completeness of all assigned work documents and records
Follow all safety rules and regulations in order to maintain a safe working environment for all Employees.
Assist in maintaining cleanliness of maintenance areas
Ensure that all tools (both personal and company owned) are removed from the aircraft, aircraft engines, appliances, and components.
Perform other duties as required or directed from supervisor.
Perform Non-Destructive Testing (NDT) and Borescope Inspections (BSCP) as applicable to individual method, level, and qualification.
 Initiate discrepancies onto Maintenance Logbook and Non-Routine forms.
Provide "buy-back" of Required Inspection Item (RII) and Non-RII maintenance actions.
Reject work that has been found unsatisfactory in accordance with published procedures.
Reject parts during Receiving Inspection process that do not conform to customer's standard
Qualifications:
Valid Airframe & Powerplant license.
Must have possessed an Airframe & Powerplant Certificate for at least 5 years.
Requires a minimum of three (3) years of verifiable (OJT/training records/certificates, etc.)  experience performing maintenance checks, engine changes, gear changes, structural repairs, flight control rigging, etc. on large aircraft operated under Part 121 or 135.
Must have A320 family practical experience.
Vision must meet a minimum requirement of 20/25 corrected or uncorrected.
Previous boroscope and Liquid Penetrant inspection experience preferred.
Pay Rates:
We are offering starting pay rate between $40 and $48 per hour for these positions,
Yearly raises are available upon evaluation.
Benefits:
Full Time: PTO, Health Insurance, 401K. No Benefits for Part Time.
About STS Line Maintenance:
STS Line Maintenance operates 41 line maintenance stations throughout the United States, Bahamas, United Kingdom and France.
At each of these stations, our team(s) offer a full range of support services, FAA / DER engineering assistance, AOG response teams and enhanced reliability through rapid response times. Skilled mechanics stand ready to handle RON maintenance, turnaround checks, non-routine discrepancy reports and ground equipment maintenance via scheduled or on-call action.
To learn more about STS Line Maintenance and what makes it the company with "Solutions to Keep You Flying," please visit www.stsaviationgroup.com or call 1-800-359-4787 ext. 9176.
#Talent