Aircraft Parts and Warranty Administrators
Aircraft Parts and Warranty Administrators
STS
--- Cirrus Aircraft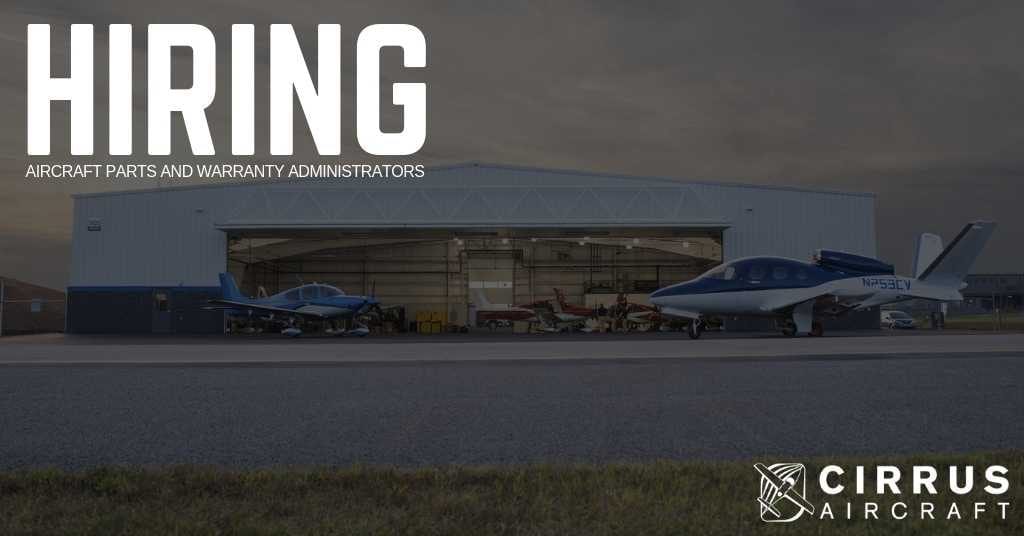 STS Technical Services, in partnership with Cirrus Aircraft, is hiring Aircraft Parts and Warranty Administrators in McKinney, Texas!
Job Summary:
The Parts and Warranty Administrator is responsible for ordering, sourcing, shipping, receiving, stocking, and inventorying parts for the Factory Service Center. This person is also responsible for filing warranty claims when applicable and interfacing with the Cirrus Warranty Administration department as well as other suppliers as applicable.
Job Duties (Parts):
Ordering of parts to include the best shipping method for the company and maintenance needs.
Requisition non-Cirrus Direct parts. Follow up on special orders and notify techs when received.
Follows and places parts request received in Ebis to a specific work order.
Receives parts into Ebis with all necessary paperwork for installation on aircraft.
Runs a low stock report weekly to ensure stock levels are accurate.
Quarterly Counts of parts.
Enters in pricing for parts.
Matching Invoices to purchases orders.
Implements processes and procedures as needed.
Job Duties (Warranty):
Submits warranty claims for aircraft parts and labors.
Ships requested warranty parts with all appropriate paperwork to Warranty Returns.
Scraps non-repairable parts based on a list of criteria.
Sends parts out for repair to Cirrus and third-party vendors based on need.
Adds warranty credits to work orders.
Implements processes and procedures as needed.
Job Duties (Front-Desk Backup):
Answered phone and as needed.
Signs in customers/vendors and anticipates their needs.
Other duties as required
Qualifications:
High School degree or equivalent.
Must be able to demonstrate the ability to read, write and speak the English language.
Experience with MS Office suite.
Ability to work with minimal instruction and supervision.
Hiring Note:
Please note that this job description is not designed to cover or contain a comprehensive listing of activities, duties or responsibilities that are required of the employee for this job. Duties, responsibilities and activities may change at any time with or without notice.  Overtime hours may be required.
Benefits:
Since this is a direct hire job, Cirrus Aircraft will provide a full benefits package to you. If you would like to learn more about that package, please call 1-800-359-4787.
Thanks for taking the time, and we look forward to hearing from you soon.