Aircraft Service Center Managers
Aircraft Service Center Managers
STS
--- Cirrus Aircraft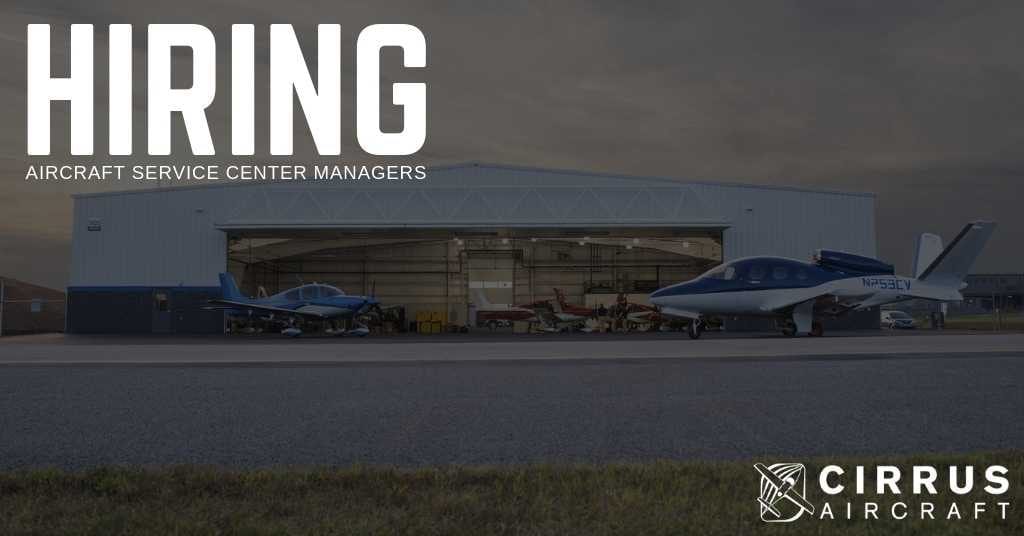 STS Technical Services, in partnership with Cirrus Aircraft, is hiring Aircraft Service Center Managers in McKinney, Texas!
Job Summary:
Under the direction of the Director of Factory Service, responsible for the daily tactical operations of the Service Center.
Job Duties:
Ensure all personnel are trained in the appropriate safety practices and procedures, including proper use and location of firefighting equipment
Ensure technicians are using the appropriate technical data available during the performance of maintenance, preventive maintenance and alteration activities
Ensure that Part 135 operator requirements have been obtained, made available and followed by inspection personnel
Ascertain qualifications of all technical employees prior to work assignment through tests, evaluation, and previous experience
Train, assist, and supervise technicians in proper work procedures and practices
Ensure the shop equipment and tools are maintained in a clean and orderly manner at all times
Ensure that all maintenance or alteration processes are appropriately completed and documented on the maintenance forms
Determine whether a hidden damage inspection should be performed, then document and inform the Chief Inspector
Initiate requisitions for stock as required for work being performed
Will be required to perform other duties as requested, directed or assigned.
How to Ensure Exceptional Customer Service:
Drive Cirrus Service Essentials with Team. Lead by example.
Displays leadership in customer hospitality, exemplifying excellent customer service and creating a positive atmosphere for customer relations.
Empowers employees to provide excellent customer service.
Establishes guidelines so employees understand expectations and parameters.
Ensures employees receive on-going training to understand owner/guest expectations.
Observes service behaviors of employees and providing feedback to individuals and or managers.
Reviews comment cards, customer satisfaction results and other data to identify areas of improvement.
Shares plans with Cirrus leadership and ensuring corrective action is taken to continuously improve guest satisfaction.
Strives to improve service performance.
Qualifications:
Bachelor's degree or equivalent combination of education and experience.
Certified under FAR Part 65.
Understands the FARs, Airworthiness Directives, methods, techniques, and practices contained in the applicable manufacturers' maintenance and alteration documents, and other data acceptable to or approved by the FAA.
Certificates or Licensees:
Inspection Authorization (IA) preferred
Airframe & Powerplant License required
Hiring Note:
Please note that this job description is not designed to cover or contain a comprehensive listing of activities, duties or responsibilities that are required of the employee for this job. Duties, responsibilities and activities may change at any time with or without notice.  Overtime hours may be required.
Benefits:
Since this is a direct hire job, Cirrus Aircraft will provide a full benefits package to you. If you would like to learn more about that package, please call 1-800-359-4787.
Thanks for taking the time, and we look forward to hearing from you soon.