Aircraft Sheet Metal Mechanics
Aircraft Sheet Metal Mechanics
STS
--- STS Technical Services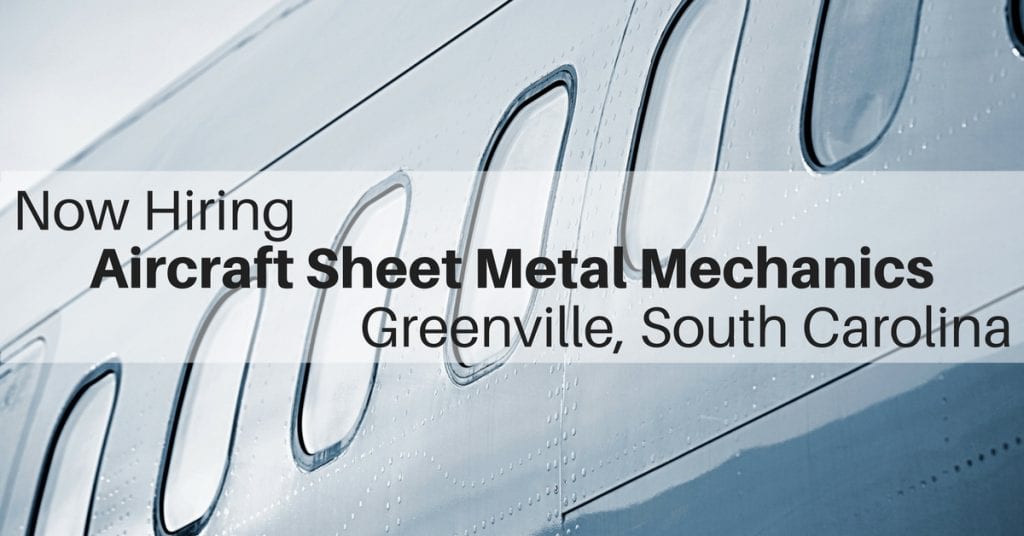 STS Technical Services is hiring Aircraft Sheet Metal Mechanics in Greenville, South Carolina!
Job Duties:
Performs modification of C-130 aircraft and major subassemblies
Identify aircraft locations by station, butt-line, and waterline as shown or engineering documentation and technical orders
Perform difficult structural pick-up and rework such as removing, replacing or realigning ribs, longerons, bulkheads, stringers, or fittings in completed skinned assemblies
Perform tasks utilizing tools to include but not limited to drills, angle motors, shears, brake, drill press, and pneumatic riveter
Perform such final assembly operations as pick-up and rework on structures and installation, installing shortages, and bringing up all items to latest engineering changes
Complete installation of and fit such items as clamps, brackets, angles, longerons, supports, bulkheads, battery boxes, and component parts such as avionics equipment
Perform trimming, milling operations, reforming and altering parts and structures as required. Fabricate detail parts such as shims, splices, gussets, angles, brackets, doublers, stiffeners, and patches
Use shop aids to facilitate assembly and installation as required
Qualifications:
3 years' of C-130 Aircraft Structural Modification Experience is required
FAA Airframe or Powereplant License a Plus
Must be able to read and interpret engineering drawings, technical manuals, structure repair manuals, understanding symbols, flags, and general notes
Ability to solve practical problems and deal with a variety of concrete variables in situations where only limited standardization exists
Ability to work with precision measuring instruments, micrometers, calipers, tape measures, and standard scales
What We Offer:
STS Technical Services works with the largest names in the aviation industry, offering hundreds of career opportunities across the United States. With over two decades of experience, we soar in our commitment to excellence and professionalism. We proudly offer competitive rates, direct deposits, medical insurance, cash advances, and referral bonuses.
If you would like to speak with an Aviation Recruitment Professional directly, call 1-800-359-4787. Our job placement services are always free, and we are open seven days a week. Reach out at any time! Thanks so much for your interest in working with STS AeroStaff Services, and we look forward to speaking with you soon.