Aircraft Sheet Metal Mechanics
Aircraft Sheet Metal Mechanics
STS
--- STS Technical Services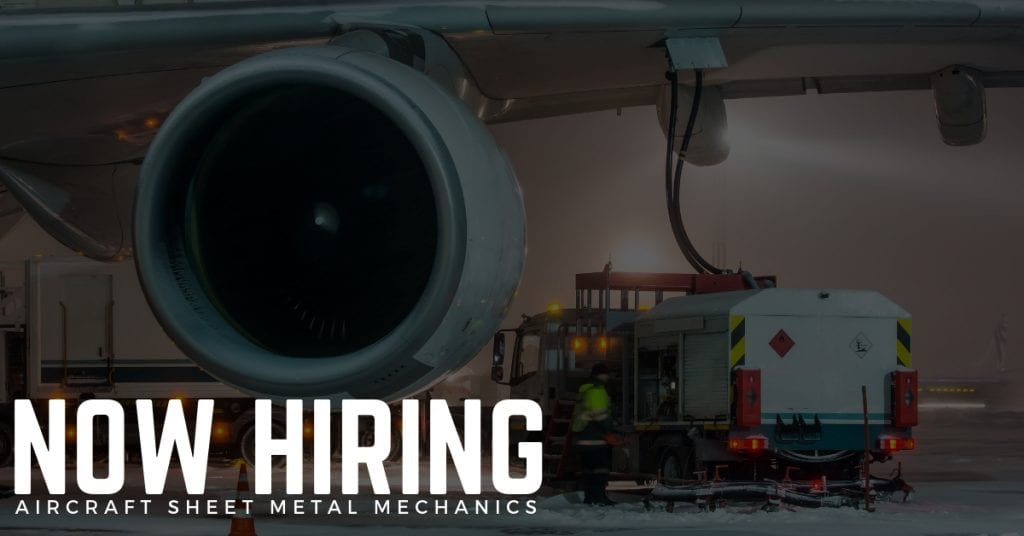 STS Technical Services is hiring Aircraft Sheet Metal Mechanics in Marana, Arizona!
Job Purpose:
To perform functions assigned in the repair and replacement of aircraft sheet metal structures.
Job Duties:
Researches technical data and performs inspection, repair and replacement of aircraft sheet metal structures including main landing gear fittings, aircraft skins and floor beams in accordance with applicable maintenance manuals, FAA regulations and Ascent Aviation policies and procedures.
Reads and interprets blueprints, sketches, or product specifications to determine sequence and methods of fabricating, assembling, and installing sheet metal products.
Plans, lays out, fabricates, assembles, installs, and repairs sheet metal parts, equipment, and products utilizing knowledge of working characteristics of metallic and nonmetallic materials, machining, and layout techniques.
Selects gauge and type of sheet metal, such as stainless steel, steel, or aluminum, or nonmetallic material, such as plastics or fiberglass, according to product specifications.
Lays out and marks dimensions and reference lines on material, using scribes, dividers, squares, and rulers applying knowledge of shop mathematics and layout techniques to develop and trace patterns of product or parts.
Performs maintenance work such as repair and maintenance of company equipment and shop housecleaning.
Makes appropriate entries in Component Removal Log, completes identification tags, and repairable/parts routing tags upon removing components from aircraft.
Ensures that proper documentation is made on training record for training received, and signed by Lead, Supervisor, or Manager.
Makes appropriate entries on routine and non-routine work cards.
Qualifications:
High School diploma or equivalent required.
One to five years experience in aircraft structural repair preferred.
Post-secondary education or training in aircraft maintenance or equivalent combination of education, training or experience required.
Ability to organize and plan work adhering to deadlines
Attention to detail and mathematical skills
Ability to read, write, and understand the English language and to follow verbal and written instruction
Ability to interpret and apply technical data relating to position
Ability to safely drive and operate a standard shift automotive vehicle and other applicable equipment
Ability to work with or without supervision.
May be required to work at both Marana, AZ and Tucson, AZ locations as business needs dictate.
Benefits:
Since this is a direct hire job, our client provide a full benefits package to you. If you would like to learn more about that package, please call 1-800-359-4787.
Thanks for taking the time, and we look forward to hearing from you soon.