Aircraft Sheet Metal Technicians
Aircraft Sheet Metal Technicians
STS
--- STS Technical Services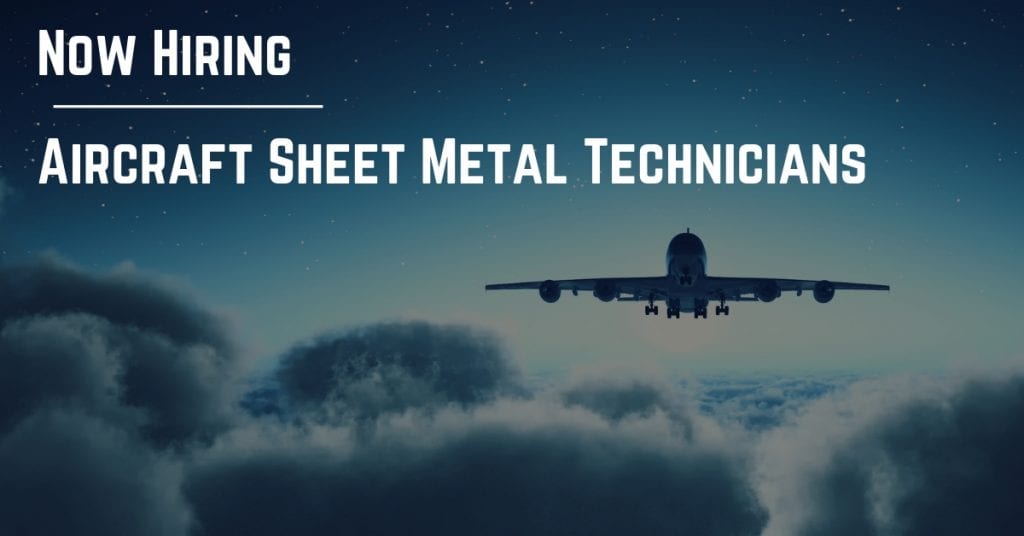 STS Technical Services is now hiring Aircraft Sheet Metal Technicians in Saint Louis, Missouri.
Position Overview:
The Aircraft Sheet Metal Technician works under minimal supervision to safely lay-out, fabricate and install parts equipment and fabricated items on aircraft following established operating procedures. All work performed should be in accordance with company design specifications, quality standards and completed work should meet customer expectations. Mentor and train other Sheet Metal Technicians.
Unique Skills:
Use blueprints to follow standard operating procedures
To fabricate and install parts equipment and fabricated items on aircraft
Education and Experience:
High School Diploma or GED required
Four (4) years of sheet metal and/or fabrication experience
Experience in aerospace industry preferred
Valid Driver's License required
Additional Requirements:
Advanced knowledge of sheet metal or fabrication processes (forming, drilling, stamping, shaping, bending, punching, cutting, riveting, filing and dimpling).
Ability to read and interpret blueprints and engineering documentation.
Ability to read, write, speak, and understand proficiently the English language
Demonstrates excellent communication skills, both verbal and written
Adapts to sudden schedule changes
Able to use tools and equipment associated with sheet metal work
Able to climb ladders and stairs, work in small restricted areas, lift up to 40 pounds and work any shift
Must have a good working knowledge of computers and experience working with Microsoft Office
Job Duties:
Use complicated schematics/blueprints, engineering drawings and technical instructions to safely perform sheet metal layout, fabrication, and installation of parts, equipment or fabricated items on aircraft. Coordinate with supervision and Inspection to ensure compliance with internal and FAA paperwork, sign-offs and quality specifications.
Mentor and train Sheet metal Technicians, as required. Review their work prior to sign off to ensure work complies with quality control standards.
Oversee projects or other technicians and assesses requirements of assigned tasks to procure required. materials and documentation for assigned tasks.
Use blueprints to cut and form plastics and follow standard operating procedures when using adhesives, sealants and solvents.
Utilizing tools as required. to shape and form complex angles and configurations according to blueprint specifications or written/verbal information.
Safely operate shop equipment such as: brakes, presses, riveting equipment, shears, and hand tools associated with sheet metal functions. Use the proper hardware for various sheet metal applications.
Comply with all safety, 5S, and housekeeping policies. Uses personal protective equipment as required. Ensures aircraft is protected (PTP).
Conduct monthly 5S audits, as required.
Use the material tracking system to create parts demand, track squawks and to sign-off work.
Assist in developing initiatives to meet individual OGSM requirements, as required.
Additional Job Functions:
Work closely with lead to develop and implement process improvements that increase safety, reduce cost, cycle time, and man hours.
Participate in continuous improvement activities
Coordinate with other disciplines concerning projects
Perform Lead responsibilities, as required
Perform other duties as assigned
Benefits:
STS Technical Services offers direct deposits / electric payroll, an awesome medical insurance program, cash advances and the opportunity to refer a friend for compensation.
We know it takes great people to do great work, and if you're interested in joining the STS Aviation Group family, we encourage you to apply on this page. Have questions? Give us a call at 1-800-359-4787.

Thanks for taking the time, and we look forward to hearing from you soon.