Airframe and Powerplant Mechanics
Airframe and Powerplant Mechanics
STS
--- Cirrus Aircraft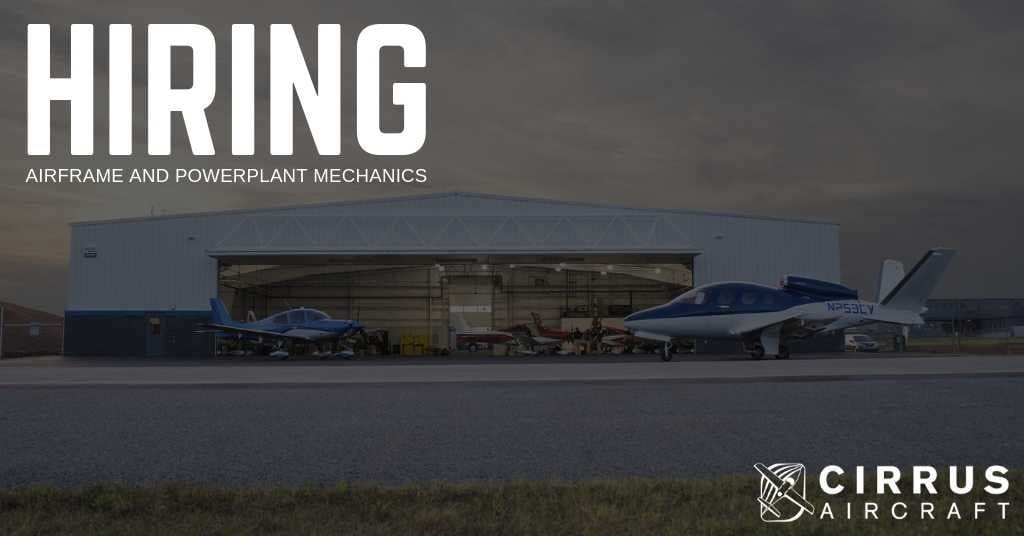 STS Technical Services, in partnership with Cirrus Aircraft, is hiring Airframe and Powerplant Mechanics in McKinney, Texas!
Job Summary:
Airframe & Powerplant Technicians are certified and licensed by the Federal Aviation Administration to perform maintenance, scheduled and unscheduled on airframes and engines on aircraft registered in the United States of America.
Job Duties:
Examine replacement aircraft parts for defects
Diagnose mechanical or electrical problems
Read and understand maintenance manuals and other technical documents and identify repair procedures
Repair wings, brakes, electrical systems and other aircraft components
Replace defective parts using approved tooling
Test aircraft parts with proper diagnostic equipment
Inspect complete work for compliance and performance standards
Review and research aircraft records
Interpret flight test data to diagnose malfunction and performance problems
Assemble aircraft components, perform required measurement and testing
Install system software and databases
Qualifications:
Possess FAA Airframe, Power plant. or airframe and Power plant Certificate or equivalent work experience (Repairman Certificate eligible)
Practical experience preferred
Cirrus SR2X Experience/Factory Training a plus
Aircraft paint and refinishing experience a plus 
Additional Knowledge, Skills & Abilities:
Knowledge of Federal Aviation Administration Regulations
Certificates or Licensees:
FAA Airframe, Power Plant or Airframe and Power Plant Certificate
Hiring Note:
Please note that this job description is not designed to cover or contain a comprehensive listing of activities, duties or responsibilities that are required of the employee for this job. Duties, responsibilities and activities may change at any time with or without notice.  Overtime hours may be required.
Benefits:
Since this is a direct hire job, Cirrus Aircraft will provide a full benefits package to you. If you would like to learn more about that package, please call 1-800-359-4787.
Thanks for taking the time, and we look forward to hearing from you soon.