Aircraft Maintenance Quality & Compliance Director
Aircraft Maintenance Quality & Compliance Director
STS
--- STS Technical Services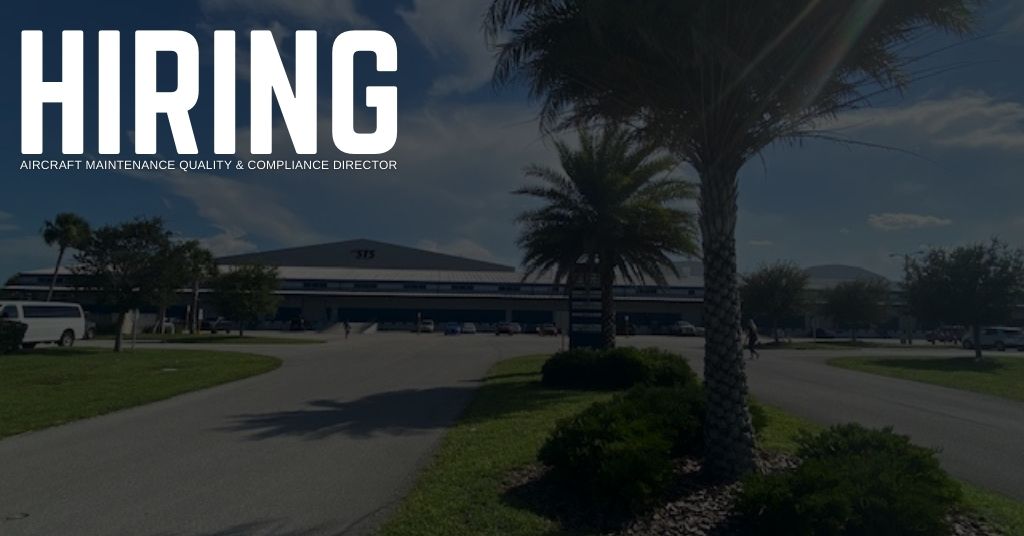 STS Aviation Services is hiring an Aircraft Maintenance Quality & Compliance Director in Melbourne, Florida.
Hiring Note: This is a new, high-profile position at our team's aircraft base maintenance facility in Melbourne, Florida. Call 1-800-359-4787 ext. 9189 to speak with a Recruiter directly. Otherwise, please apply online to start the hiring process.
Qualifications:
4 Year College Degree or equivalent work experience required;
FAA Mechanic Certificate with Airframe and Powerplant ratings Preferred;
Minimum 10 years aviation experience with at least 5 years in management;
Management level experience in development, implementation and oversight of various compliance programs required with formal training preferred. For example:

Safety (personnel and product),
Civil Aviation,
International Quality Management Standards,
Global Trade,
Government Contracting (U.S. & Foreign)
General Knowledge / Skills / Abilities:
Technical Expertise;
Strong knowledge of requirements related to both personnel health and safety (OSHA) and Aviation Safety Management Systems (SMS);
Expertise in navigating U.S. and international regulatory framework;
Cross-Functional Leadership Skills;
Strategic Thinking and Planning;
Problem Solving/Analysis;
Compliance Direction & Oversight;
Project Management Skills;
Strong Written and Verbal Communication Skills;
Thorough understanding of all STS Companies/Divisions operations and requirements;
Proficiency with common computer systems and MS Office Suite.
Nature of Work:
Primarily in an Office environment with regular visits to production, maintenance and warehouse facilities, as well as active airport ramp environments.  Some domestic and international travel required.
Desired Characteristics:
The individual must be a strong leader, who is experienced in both technical matters and senior management level practices;
Demonstrate excellent organizational and follow-up skills;
Must possess excellent interpersonal skills;
Must be assertive and able to effectively converse with clients, employees, regulatory agencies, etc.;
Ability to regularly communicate and work with top level ("C-Suite") and Board level executives;
Strong presentation skills & comfort with public speaking;
Must be able to manage and coordinate diverse teams.
General Responsibilities:
Establish and direct the STS Aviation Group safety policy and quality activities;
Coordinate with leadership teams from all STS companies to develop and implement consistent programs, processes and related documentation for Safety, Quality and Risk Management across the STS Group;
Communicate and Carry-out the corporate Safety and Quality objectives defined by the STS
Executive Team;
Act as Corporate Safety Officer;
Coordinate with leadership teams from all STS companies to unify (where possible) the systems and processes used to comply with regulatory requirements in the areas of:
U.S. and International, Civil Aviation Regulations (14 CFR 145, 21, etc.);
Global Trade Compliance (ITAR, EAR, etc.);
U.S. and Foreign Government Contracting (FARs, DFARs, FMS, etc.);
Schedule, Organize and Perform periodic audits (safety and regulatory) throughout the STS Group;
Select, Direct and Develop Quality/Safety team members;
Provide advice, guidance, and assistance as needed to STS companies in the development or enhancement of QMS and Safety programs (e.g. ISO, AS, NADCAP, etc.);
Assist in corporate Business Development activities by attending meetings, trade shows, presentations, etc., in order to speak to STS's various certifications and compliance initiatives;
Building and maintain strategic relationships with customers, partners and prime contractors;
Interact regularly with the Corporate Executive Team
Authorization:
All candidates must currently be authorized to work in the United States.
About STS Aviation Services:
STS Aviation Services operates three state-of-the-art aircraft hangars, two interior modification facilities and more than 40 line maintenance stations both stateside and aboard. These facilities, and the expert personnel that call each home, fuel the company's drive to seamlessly blend a growing portfolio of MRO services to deliver all-encompassing aircraft maintenance, engineering and modification solutions to the global aviation industry.
To learn more about STS Aviation Services and what makes it the company with "Solutions to Keep You Flying," please visit www.stsaviationgroup.com or call 1-800-800-2400.
#ZR