A&P Line Maintenance Shift Supervisors
2023-03-23
2023-03-23
USD
00.00
HOUR
A&P Line Maintenance Shift Supervisors
STS Technincal Services
--- STS Line Maintenance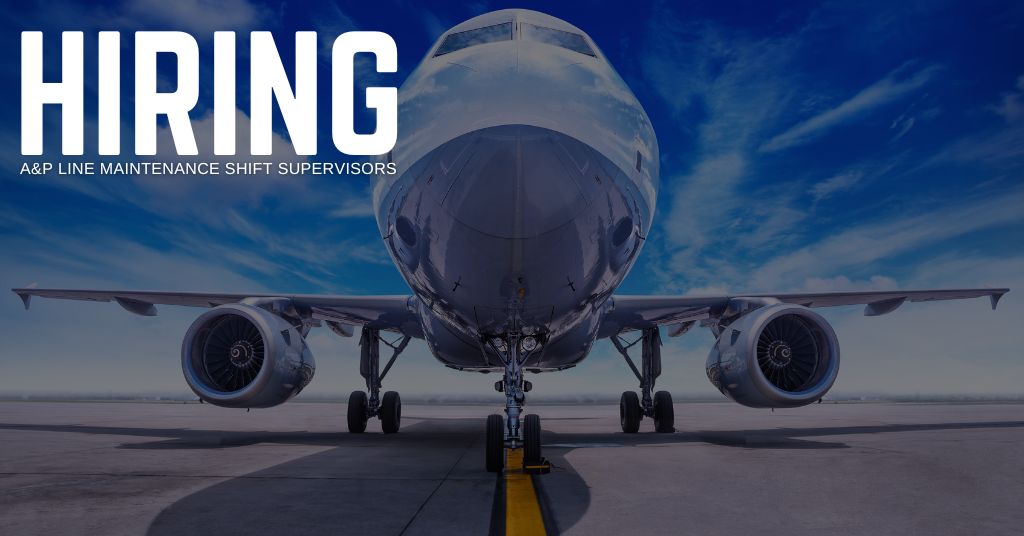 STS Line Maintenance is hiring A&P Line Maintenance Shift Supervisors in Orlando, Florida.
Hiring Note: All candidates must currently be authorized to work in the United States.
Position Summary:
STS Line Maintenance is looking for A&P Line Maintenance Shift Supervisors to help us grow our line maintenance station in Orlando, FL. The A&P Line Maintenance Shift Supervisors supports the daily needs of the maintenance operations for our customers and ensures an outstanding experience by providing top-level service.
STS Line Maintenance is one of the largest line maintenance support providers in the United States, and we pride ourselves in providing high quality and reliable aircraft maintenance support services through our nation-wide network.
Qualifications:
FAA-certificated mechanic with Airframe and Powerplant ratings
Requires 3 years previous line maintenance experience
Previous supervisory, lead, or directing workforce experience (or previous leadership experience)
Must have the ability to plan, organize, and administrate workloads to subordinates
Authority:
Has the authority to determine the Airworthiness of a customer's aircraft
Has the authority to determine the Serviceability of a customer's Aircraft Part
Has the authority to Assign Lead Mechanics to work package
Has the authority to determine man-power requirements for assigned jobs
Has Second Signature Authority
Has the Authority to Assign Field Trips as required
Responsibilities:
The Shift Supervisor oversees line maintenance operations and supervises line maintenance personnel. This position reports to the Manager on Duty.
Promote safety
Accountable for achieving safety performance relative to job tasks
Take action to remove inoperative equipment from use, instruct proper tagging, and action repair or replacement
Monitor maintenance activities to ensure performance levels are sufficient to provide the highest possible standards of quality and safety
Determine work priorities on the shift
Supervise maintenance performed by STS maintenance personnel.
Provide timely and accurate information on aircraft status
Determine methods & standards for personnel productivity, safety habits, and workmanship
Review and evaluate maintenance performance and administer corrective action when necessary
Assist in formulation of station policy
Assist in creating and administering company and departmental budget and performance commitments
Assist with monthly/quarterly audits, tool control and other routine station requirements.
Ensure that all tools and equipment are maintained at a level of safety that meets the needs of the station.
Conduct post-incident investigations and complete associated reports
Perform computer and administrative functions as assigned by manager on duty
Identify possibilities for operational improvements and communicate them to management
Ensure adherence to airport and aircraft security regulations and report any violations and/or potential violations to management
Perform Shift Turnover as required per internal/external policies and procedures
Audit completed aircraft records (e.g., logbook pages, work cards, non-routines, Engineering documents [EOs, EAs, etc.], and other related documents) generated by RON and Line Maintenance
Monitor the proper completion of aircraft records (e.g., logbook pages, work cards, non-routines, Engineering documents [EOs, EAs, etc.], and other related documents) during RON and Line Maintenance
Ensure accuracy and completeness of all assigned work documents and records
Make aircraft maintenance record entries as required
Ensure that department personnel, including themselves, are properly trained, qualified, and current to perform assigned tasks
Perform other duties as assigned by manager on duty
Always follow (never deviate from) approved published procedures unless proper deviation is authorized
experience)
Salary:
We offer a starting pay rate between $55-$65 per hour as determined by previous experience and formal training.
Yearly raises are available upon evaluation.
Benefits:
Full Time: PTO, Health Insurance, 401K, Customer provided flight benefits. No Benefits for Part Time.
About STS Line Maintenance:
STS Line Maintenance operates 41 line maintenance stations throughout the United States, Bahamas, United Kingdom and France.
At each of these stations, our team(s) offer a full range of support services, FAA / DER engineering assistance, AOG response teams and enhanced reliability through rapid response times. Skilled mechanics stand ready to handle RON maintenance, turnaround checks, non-routine discrepancy reports and ground equipment maintenance via scheduled or on-call action.
To learn more about STS Line Maintenance and what makes it the company with "Solutions to Keep You Flying," please visit www.stsaviationgroup.com or call 1-800-359-4787 ext. 9176.
#Talent