A&P Line Maintenance Station Manager
2023-09-05
2023-09-05
USD
00.00
HOUR
A&P Line Maintenance Station Manager
STS Technincal Services
--- STS Line Maintenance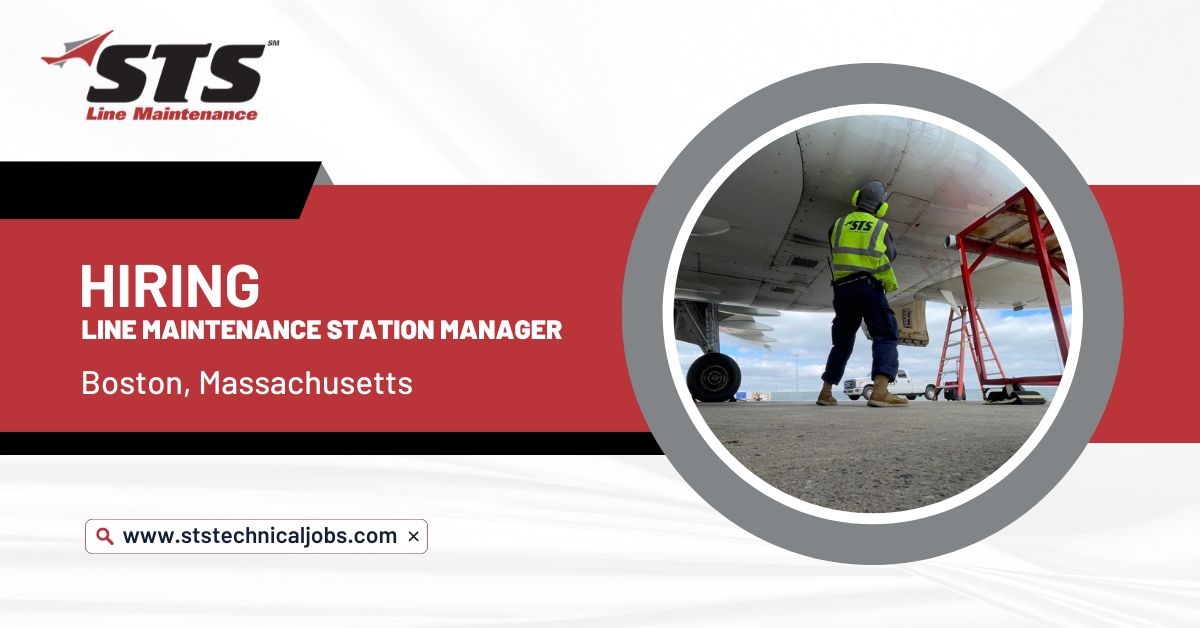 STS Line Maintenance is hiring an A&P Line Maintenance Station Manager in Boston, Massachusetts.
Hiring Note: All candidates must currently be authorized to work in the United States.
Qualifications:
Must have a minimum of five years' line maintenance experience
Must have a minimum of three years' management experience
Must have A&P License
Must be able to read, write, and speak the English language
Must be self-motivated
As a working station manager you will be required to have good time management skills
Must have excellent communication and people skills
Must be able to exercise good judgment in a team environment as well as in aircraft maintenance and safety
Must have problem solving and organizational skills
Must have experience with Microsoft office Excel, Word, Power Point, and preferably KRONOS time keeping system
Must be able to read and understand Company and Manufacturer Manuals, GMM's and AMM's.
Must be able to qualify on the various aircraft worked at the station through GENFAM completions and air carrier training.
Must be able to perform all line maintenance functions un-supervise
Must own and provide a minimum set of hand tools
Must be willing to work shift work and will rotate between nights and days
Must be able to input and approve aircraft work orders in computer system IAW all applicable policies
Must be able to create work schedules for employees to cover station air carrier requirements without building OT into the schedule
Must be able to complete quality/safety/maintenance related documents for STS and air carriers as required
Must be able to train and assist technicians as required with all aspects of their position Must have a clean MVR
Must hold a valid Driver License
Must not be under a doctor's care with limited work restrictions
Must be able to pass a back ground check and obtain all necessary badging
Must be willing to work nights, weekends and holidays
Must be able to ascend/descend ladders, stairs and work stands unassisted
Must be able to bend, kneel, crawl and stoop frequently in confined spaces
Must be able to lift up to 50 pounds unassisted
Must be willing to work in an environment that is subject to changing climate conditions and moderate noise level
Rate of Pay:
Rate of pay is determined by previous experience, and will range between 95k-105k annual salary.
Performance Bonuses are also available, up to an $16k annually.
Yearly raises are available upon evaluation.
Benefits:
Full Time: PTO, Health Insurance, 401K. No Benefits for Part Time.
About STS Line Maintenance:
STS Line Maintenance operates 41 line maintenance stations throughout the United States, Bahamas, United Kingdom and France.
At each of these stations, our team(s) offer a full range of support services, FAA / DER engineering assistance, AOG response teams and enhanced reliability through rapid response times. Skilled mechanics stand ready to handle RON maintenance, turnaround checks, non-routine discrepancy reports and ground equipment maintenance via scheduled or on-call action.
To learn more about STS Line Maintenance and what makes it the company with "Solutions to Keep You Flying," please visit www.stsaviationgroup.com or call 1-800-359-4787 ext. 9176.
#IndeedAM