Crew Chiefs (Falcon Jet)
STS
--- STS Technical Services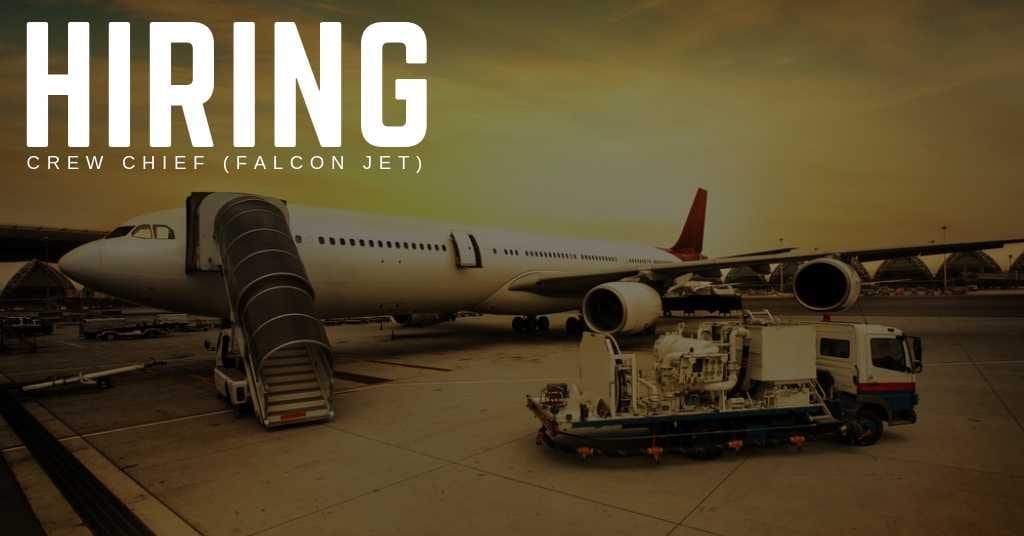 STS Technical Services is hiring Crew Chiefs (Falcon Jet) in Houston, Texas!
Duties & Responsibilities:
Supervises a crew of technicians and/or shop personnel in the maintenance of a specific group of aircraft types to ensure maintenance is accomplished successfully, outdates are met, and customers are satisfied.
Manpower deployment and controlling hours charged to the job are key accountabilities of the position.
Provides coordination with the manager in scheduling arrivals/departures, preplanning job scopes and communicating with the customer on the status of work.
Ensures that safe work practices are employed consistently on each aircraft job or throughout the shop.
The Crew Chief is responsible for troubleshooting aircraft discrepancies and implementing corrective action.
The Crew Chief has ultimate responsibility for the quality of maintenance work and turn time.
This position is key in projecting a competent image to our customers.
Use deductive reasoning in technical issues
Coordinate multiple activities to accomplish the required maintenance by the promised delivery date
Supervises a crew of technicians in the performance of aircraft maintenance.
Appraises, recommends salary and other status changes, rewards, recognizes and disciplines members of the crew.
Assures that technicians are held accountable for the quality of the maintenance work that they perform.
Assigns work to crew members based upon scheduled out dates and the technical expertise of the various employees.
Provides technical guidance to technicians on aircraft maintenance configurations, as well as service bulletins, directives, and enhancements.
Must be up-to-date on scope of required maintenance for customers and coordinates efforts to ensure a timely turnaround.
With the manager, pre-plans work scopes on aircraft, including deploying manpower, pre-ordering parts, opening the work order and customer debriefing. Writes all additional items and squawks identified during inspection.
Monitors hours charged to a job to assure that costs are controlled and out dates met.
Reviews employee time cards on a daily basis to verify accuracy of time charged to work orders.
Informs department manager or customer project manager of problems and work status so that communications with the customers are timely and complete.
Reviews workbook for sign-offs and parts issues after departure, but prior to closing in the inspection department. May perform final "walk around" to ensure aircraft cleanliness and readiness for departure.
Assures that crew members are well-trained on assigned aircraft, that they are scheduled for periodic technical training in-house or at designated off-site locations.
Works cooperatively with other Crew Chiefs or shops to assure cross-training on other aircraft.
Performs 'hands-on' maintenance as required to assure an on-time departure and customer satisfaction.
Coordinates with other departments as needed to assure that customers have a positive experience at the facility.
Actively works to simplify for efficiency, ease of work performance, quality, and turnaround time.
Supports and adheres to safety, environmental and general housekeeping policies.
Is proactive in the area of safety; promotes safe work habits to the crew, monitors the work environment for safety hazards and takes steps to address/remove hazards.
Qualifications:
Must be authorized to work in the U.S.

High School Diploma or GED equivalent required.

A&P Certificate.

A minimum of seven years experience as an A&P Mechanic in corporate aviation working with Falcons.

Experience leading or supervising a crew.

Demonstrated technical ability on air frames in the areas of heavy maintenance, light maintenance, and service bulletins.

Diagnose and resolve technical problems.

Plan, organize, and coordinate multiple activities to achieve quality maintenance within established time frames.

Must have effective interpersonal and verbal skills in order to interface with customers and employees.

Has demonstrated the ability to interact with customers, as well as solve customer concerns with the customer themselves.

Demonstrated ability to achieve desired results using a "team" mentality and approach.


Able to set clear expectations, review progress, provide feedback and guidance, and hold people accountable.

Demonstrated ability to solve problems utilizing technical data, past experience, and input from team members.

Demonstrated ability to treat peers and co-workers with respect and in a professional manner.

Able to establish and maintain effective relationships with customers and gain their trust and respect.

Demonstrated ability to get results despite a large workload, competing demands, and a fast-paced environment.

Demonstrated ability to create strong morale and spirit in team; fosters open dialogue; ability to create a feeling of belonging in the team

Open to ideas and continuously looking for opportunities to improve work tasks, processes, and procedures.

Ability to find, see, read, understand, and interpret maintenance manuals.


Creates a climate in which people want to do their best; empowers others; can motivate many kinds of people

Walk extensively

Excellent hand-to-eye coordination

Stand for a minimum of 8 hours

Ability to think clearly, speak intelligibly on the phone and in person

Ability to manipulate equipment of all sizes, tools, computer keyboards, and telephones

Lift up to 75 pounds

Work in extreme weather conditions

Ability to work outside of designated work hours, as well as weekends/overtime.

Benefits:
STS Technical Services offers direct deposits / electric payroll, an awesome medical insurance program, cash advances, and the opportunity to refer a friend for compensation.
We know it takes great people to do great work, so if you're interested in joining the STS Aviation Group family, we encourage you to apply on this page. Have questions? Give us a call at 1-800-359-4787.
Thanks for taking the time, and we look forward to hearing from you soon.