Internal Communications Specialists
Internal Communications Specialists
STS
--- STS Technical Services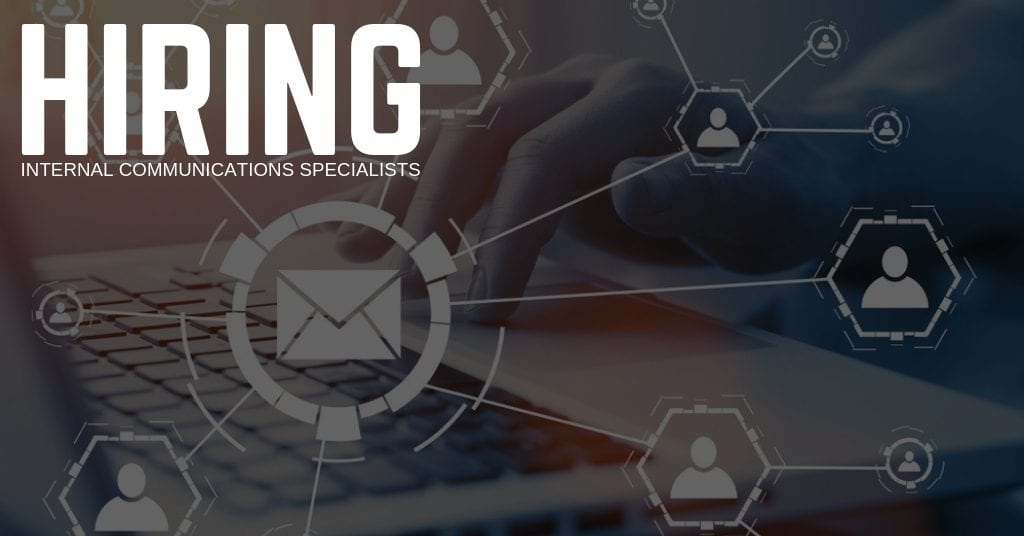 STS Technical Services is hiring Internal Communications Specialists in Melbourne, Florida.

Job Summary:
Helps develop and support Internal Communications planning and execution for the Company's specific projects, initiatives, and events.
Job Responsibilities:
Supports the development and implementation of the Internal Communications strategy with the aim of maintaining a consistent dialogue with employees that promotes retention.
Utilizes Internal Communications tools, including but not limited to emails, digital signs, internal social media, and our client's TV, to keep all North America employees informed and engaged.
Utilizes the Company's emergency notification system to keep employees informed during a crisis, requiring on-call availability.
Implements metrics and utilizes analytical tools to identify and measure communication needs and effectiveness.
Interfaces with different employees and leaders from various business areas and operating units to maintain the flow of communications and generate a dialogue to fuel the Internal Communications strategy.
Works on special projects as needed.
Visits assigned operating units to provide Internal Communications support.
Supports business areas, including Human Resources, IT, Legal, Marketing, etc., with organizational communications initiatives.
Coordinates internal and external corporate events.
Supports corporate, business and marketing communications projects as needed.
Works closely with the Internal Communications team at the client's headquarters, as well as with the Corporate Communications team in Fort Lauderdale and Melbourne, to ensure alignment of messaging and initiatives.
Participates in all team alignment meetings, providing insight into sites for which he/she is responsible.
Executes a strategy that works locally while also guaranteeing that internal customers have a uniform experience, no matter their location.
Act as an ambassador of the brand and culture among all internal audiences.
Supports budget preparation and management.
Utilizes new communications technologies for Internal Communications.
Collaborates with the  Foundation to support corporate social responsibility initiatives.
Coordinates US sponsorship, assuring adherence to the Company's compliance policies and procedures.
Maintains relationship with Compliance department at headquarters, ensuring all guidance is followed for events and projects.
Provides communications support to internal customers, organizing skip level meetings, town hall meetings, targeted video communications, and site visits with leadership to encourage the flow of information.
Keeps workplace organized. Supports Company's corporate excellence program, P3E. Helps with other administrative duties.
Knowledge, Skills, & Abilities:
Bachelor's degree required in Mass Communications/Journalism or equivalent
Experience: Generally 2-3 years or more of experience in area of responsibility Internal Communications experience
Event Management experience
Corporate Social Media content creation experience
Possesses and applies a broad knowledge of principles and practices in his/her work assignments which typically are moderately complex in nature
Communications techniques
Journalism techniques
Presentation techniques
Strong computer skills
Excellent written and oral skills
Strong interpersonal relationship skills, self-starter, outgoing, extroverted
May be required to work flexible hours or overtime
Ability to work in a safe, professional manner adhering to all regulatory requirements, including OSHA, EPA, State and Federal regulations
Up to 20% travel may be required
Open to relocation
Benefits:
STS Technical Services offers direct deposits / electric payroll, an awesome medical insurance program, cash advances and the opportunity to refer a friend for compensation.
We know it takes great people to do great work, and if you're interested in joining the STS Aviation Group family, we encourage you to apply on this page. Have questions? Give us a call at 1-800-359-4787.
Thanks for taking the time, and we look forward to hearing from you soon.