2023-03-14
2023-03-14
USD
00.00
HOUR
Lead A&P Mechanics
STS Technincal Services
--- STS Line Maintenance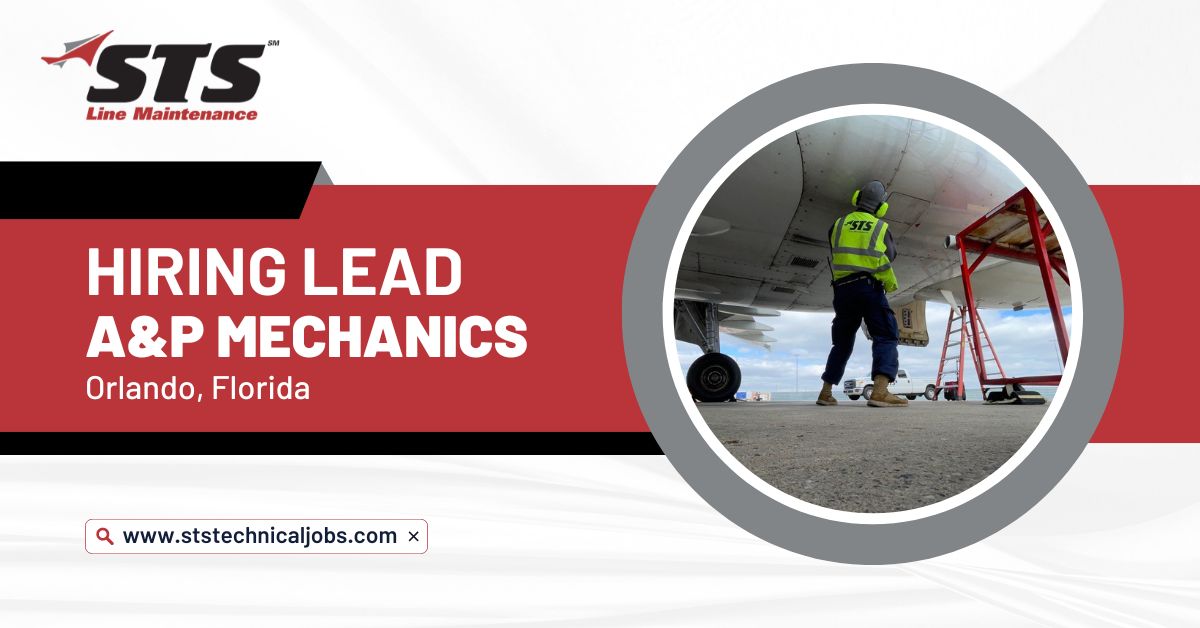 STS Line Maintenance is hiring Lead A&P Mechanics in Orlando, Florida.
Hiring Note: All candidates must currently be authorized to work in the United States.
Position Summary:
STS Line Maintenance is looking for highly motivated Lead A&P Mechanics to help us grow our line maintenance station in Orlando, FL. The Lead A&P Mechanic supports the daily needs of the maintenance operations for our customers and ensures an outstanding experience by providing top-level service.
STS Line Maintenance is one of the largest line maintenance support providers in the United States, and we pride ourselves in providing high quality and reliable aircraft maintenance support throughout our extensive, rapid-response, nation-wide network. Perform aircraft maintenance activities according to established policies and procedures and the Code of Federal Regulations. This position is responsible for providing technical assistance and on-the-job training to the A&P mechanics. The Lead A&P Mechanics reports to the Shift Supervisor.
Qualifications:
Perform and assist approved work by the supervisors within the scheduled shift
Ensure completeness of all assigned work documents and records
Provide leadership and technical support to mechanics
Provide on-the-job training during work shift to ensure proper qualification standards are met and maintained
Maintain cleanliness of maintenance areas at all times
Ensure a "clean as you go" job ethic is adhered to
Ensure that all maintenance areas meet good "housekeeping" standards
Ensure that all tools (both personal and company owned) are removed from the aircraft, aircraft engines, appliances, and components
Always maintain positive tool control accountability
Immediately report lost and/or found tools to management
Follow all rules and regulations in order to maintain a safe working environment for all employees
Research all pertinent information and material for work scheduled on aircraft
Input necessary data into the maintenance tracking software systems
Assist in the clean-up of the maintenance work area
Comply with and implement the necessary procedures in the MEL/CDL/NEF Program
Perform Shift Turnover as required by internal/external policies & procedures
Audit completed aircraft records (e.g., logbook pages, work cards, non-routines, Engineering documents [EOs, EAs, etc.], and other related documents) generated by RON and Line Maintenance
Monitor the proper completion of aircraft records (e.g., logbook pages, work cards, non-routines, Engineering documents [EOs, EAs, etc.], and other related documents) generated by RON and Line Maintenance
Ensure accuracy and completeness of all assigned work documents and records
Maintain familiarization with the training requirements necessary and ensure training is current prior to performing the functions and tasks of this position
Perform other duties as assigned
Always follow (never deviate from) approved published procedures unless proper deviation is authorized
Job Responsibilities:
FAA-certificated mechanic with Airframe and Powerplant ratings
Requires four (4) years of experience performing maintenance in one or more of the following areas on A320 series or large similar type aircraft: maintenance checks, component maintenance, engine changes, landing gear replacement, structural repairs, flight control rigging, etc.
When directed by management, must be taxi and run-up qualified on all aircraft types
Must have the ability to plan, organize, and administrate workloads to subordinates
Pay Rates:
We offer a starting pay rate between $40 and $55 per hour, as determined by previous experience and formal training.
Yearly raises are available upon evaluation.
Benefits:
Full Time: PTO, Health Insurance, 401K. No Benefits for Part Time.
About STS Line Maintenance:
STS Line Maintenance operates 41 line maintenance stations throughout the United States, Bahamas, United Kingdom and France.
At each of these stations, our team(s) offer a full range of support services, FAA / DER engineering assistance, AOG response teams and enhanced reliability through rapid response times. Skilled mechanics stand ready to handle RON maintenance, turnaround checks, non-routine discrepancy reports and ground equipment maintenance via scheduled or on-call action.
To learn more about STS Line Maintenance and what makes it the company with "Solutions to Keep You Flying," please visit www.stsaviationgroup.com or call 1-800-359-4787 ext. 9176.
#Talent