Leave Specialists
STS
--- STS Technical Services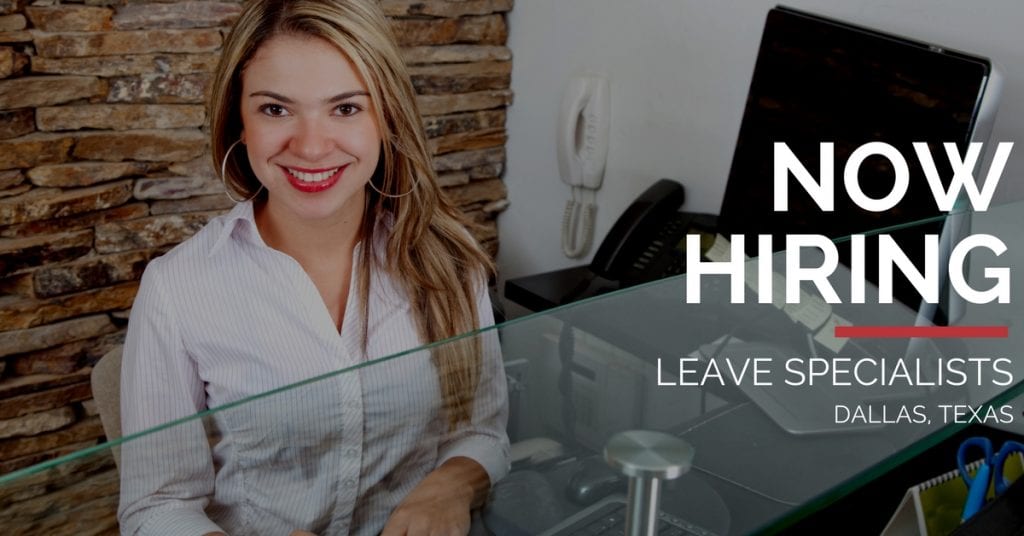 STS Technical Services is hiring Leave Specialists in Dallas, Texas.
Note: Our staffing services come at no cost to you, the candidate. This is job seeking made simple! For more details, please contact our recruiters at 1-800-359-4787.
Job Duties:
Provide consistent support in the processing of administrative paperwork to include, but not limited to, payroll, overtime and Union paperwork support for Employees
Support present and future technology projects related to Time, Attendance and Leaves of Absence
Provides support to Employees who have sustained an occupational injury by remaining in contact with the Employee throughout their injury ensuring their medical needs are being met and they are appropriately compensated
Takes phone calls, listens, and encourages Employees in a compassionate manner
Serves as a general resource for Occupational Leaves of Absence questions with regard to workers' compensation, salary continuation, OJI take-back (One Check), transitional duty, FMLA, ADA, Company policy issues, and Employee Contract issues
Administer the necessary paperwork, maintain excellent filing, recordkeeping, and note systems on all injuries to maintain compliance with workers' compensation and related Federal and State regulations
Interact with vendors, physicians, legal counsel, third party administrators, Finance Department, People Department, Legal Department, Unions, etc. concerning Employee issues as they relate to on-the-job injuries and interpretation of government rules and regulations
Operates PC equipment utilizing word processing, spreadsheet, and database management
Operate copy machine, FAX equipment, ten-key calculator, telephone, and other standard office equipment
Provides FMLA, OJI and Medical Leave reports on a regular basis to Attendance & Leave Management and OSHA. Prepares special reports, memos and letters as needed
Performs projects as assigned by Manger-Attendance & Leave Administration
Attends monthly FMLA Committee Meetings and documents Committee decisions and develops FMLA processes and procedures to be utilized by the Time and Attendance group as required
Regularly meets, discusses issues, guides, trains, and advises Management on FMLA issues as required
Understands Federal and State leave laws to create up-to-date reference documents for day-to-day administration of the Programs
Assist in preparing and auditing payroll reports, provide daily support for contract payroll processing, and coordinate pay relating to all LOA's, OJI's, FMLA, and Transitional Duty activity
Maintain, audit and research attendance records
Interaction with Employees and Leadership to assist in research relating to Employees payroll and attendance
Deliver Positively Outrageous Customer Service and display the while performing job functions
Qualifications:
High School diploma or equivalency required
College coursework or equivalent business education gained through coursework desired
A minimum of two years' experience in a workers' compensation and or FMLA administration desired
Minimal bending and lifting relating to filing
Must possess ability to type and/or use a computer keyboard with sufficient speed and accuracy to meet demands of the job
Must be PC literate and proficient in Microsoft Word and Excel
Must have judgment sufficient to handle and resolve Employee inquires and problems
Must work under tight time constraints to accomplish assignments and projects
Must be able to read and understand documents and possess excellent oral and written communication skills
Must be multi-task oriented and possess solid organizational skills and above average math aptitude
Must be able to travel as needed, work varying schedules, and work weekends as required
Must be able to work well under stressful situations
Benefits:
STS Technical Services offers direct deposits / electric payroll, an awesome medical insurance program, cash advances, and the opportunity to refer a friend for compensation.
We know it takes great people to do great work, so if you're interested in joining the STS Aviation Group family, we encourage you to apply on this page. Have questions? Give us a call at 1-800-359-4787.
Thanks for taking the time, and we look forward to hearing from you soon.