Maintenance Mechanics
STS
--- STS Technical Services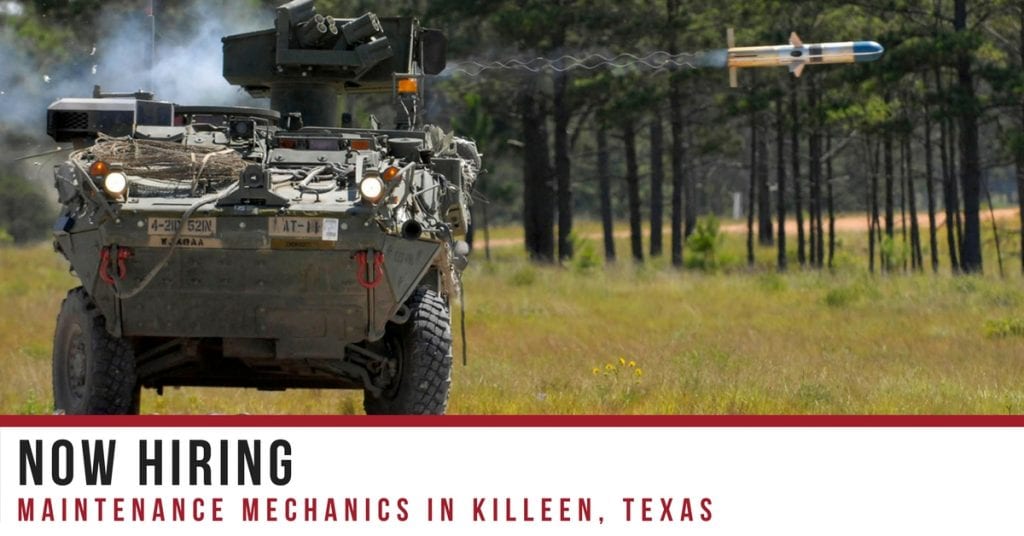 STS Technical Services is hiring Maintenance Mechanics in Killeen, Texas.
In this role, you will work to repair military Stryker Vehicles and troubleshoot all aspects of the engine, communication systems, parts/components. This is a tremendous opportunity to work for a company that holds industry leading standards for defense and also is on the leading edge of an industry boom.
Essential Duties & Responsibilities:
Perform trouble shooting specific faults, failures and deficiencies
Perform preventive maintenance checks and services (PMCS) on family of "Stryker" Vehicles
Troubleshoot and correct malfunctions in automotive systems (power-pack) engine, transmission, cooling, fuel, exhaust, driveline and suspension using built in test equipment (BITE), test equipment and/or manual troubleshooting procedures (MTPs), common and special tools and applicable technical documentation
Repair sub-systems and components, line replacement units (LRU's) of the "Stryker"
Perform maintenance steps to accomplish repairs will include disassembling, removing and replacing worn/ damaged/defective part(s), adjusting, reassembling and testing using applicable technical documentation
Troubleshoot and correct malfunctions in hydraulic systems common to all "Stryker" or unique to variants of the "Stryker" vehicle
Complete maintenance and administrative forms and other paperwork related to performance of duties
Read and interpret troubleshooting and diagnostic procedures and flow diagrams for systems, subsystems and components
Skilled in computer operation and Microsoft operating systems (Word, EXCEL and Power-point)
Maintain accountability of special tools, test equipment and property
Qualifications:
3-plus years related experience in truck mechanics with emphasis on electronics, print reading, and welding
Must be able to identify parts through IETM, Schematics and cross reference based on vehicle configuration
Able to understand and describe acronyms related to turret and related LRU systems
Benefits:
STS Technical Services offers direct deposits / electric payroll, an awesome medical insurance program, cash advances, and the opportunity to refer a friend for compensation.
Have questions? Give us a call at 1-800-359-4787.
Thanks for taking the time, and we look forward to hearing from you soon.