Manufacturing Engineering Managers
2023-03-13
2023-03-13
USD
00.00
HOUR
Manufacturing Engineering Managers
STS Technincal Services
--- TICO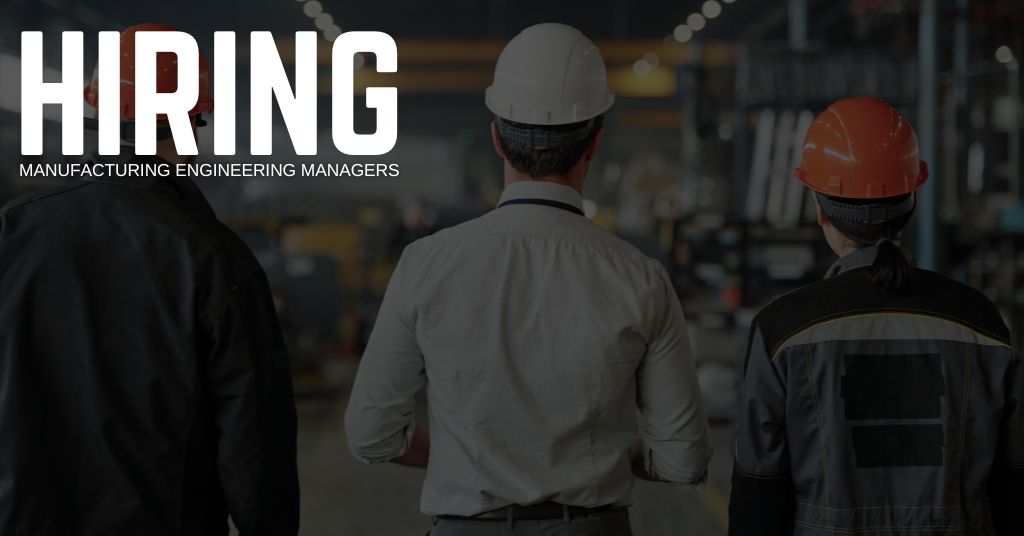 STS Technical Services is hiring Manufacturing Engineering Managers in Ridgeland, South Carolina.
Client Overview:
TICO is a worldwide designer, manufacturer, and marketer of Terminal Tractors with more than 5000 vehicles in operation around the world. Manufacturing Facility in Ridgeland, SC. TICO is the industry leader in product innovations, new technologies, and exceeding customer expectations.
Our vision is to have the most competent workforce available. We are proud to provide excellence in our products and invite you to join our team.
Position Scope:
The Manufacturing Engineering Manager plans, directs, and coordinates the activities of the MFG engineering dept, facilitating efficient manufacturing operations across the organization.
Supervisory Responsibilities:
Recruits, interviews, hires, and trains new staff in the department.
Oversees the daily workflow of the department.
Provides constructive and timely performance evaluations.
Handles discipline and termination of employees in accordance with company policy.
Duties/Responsibilities:
Collaborates with other manufacturing managers and leadership to set and assess priorities across teams.
Assesses cost effectiveness and feasibility of manufacturing processes; makes and implements recommendations to reduce costs and improve efficiency.
Provides program management and oversight in development and execution of plant renovations and expansions, coordinates outside contractors and vendors.
Prepares and implements the departmental budget.
Develops manufacturing processes by studying product requirements; researching, designing, modifying, and testing manufacturing methods and equipment; conferring with equipment vendors.
Maintains professional and technical knowledge by attending educational workshops; reviewing professional publications; establishing personal networks; participating in professional societies.
Ensures compliance with health and safety laws, regulations, and guidelines, including EPA and OSHA requirements in relation to MFG engineering projects.
Performs other duties as assigned.
Minimum Requirements:
Bachelor's Degree in an engineering related field or equivalent experience.
Preferred 5 years relevant engineering or process design experience in manufacturing environment.
Exceptional interpersonal, coaching, and influencing skills in developing trusted relationships at all levels.
Collaborative partner in building culture and strategy in alignment with business needs.
Proficient in Microsoft Office applications.
Ability to gain thorough knowledge of TICO Manufacturing's processes and procedures.
Strong communication and leadership skills; with the ability to engage a diverse workforce in safety conversations.
Ability to work independently and manage workload effectively; plan, coordinate, organize, prioritize, and handle multiple tasks.
Ability to commit to flexible schedule and prompt arrival.
Ability to use good judgement to make decisions and maintain appropriate levels of confidentiality
Thorough understanding and application of lean principles and continuous improvement methodologies
Position Expectations:
SAFETY: Follow TICO General Health & Safety Rules, ensure safe operating conditions within area of responsibility, and notify coworkers and supervisors of hazardous acts and conditions. Proper use of PPE; use only defect-free equipment. Promote safety in department. Use proper lifting techniques and overhead hoist when needed. Maintain clean and safe working environment in line with 5-S Philosophy. Participate in hazardous communication training and safety meetings.
QUALITY: Responsible for the quality of work. This requires defect-free work and understanding of the requirements of the company's quality system as it pertains to job duties and responsibilities. Must be able to check work to ensure conformance to process control instructions, specifications, and quality standards. Identify and segregate non-conforming product. Identify the need for and assist in initiating and implementing corrective and preventive actions when appropriate.
FLEXIBILITY: Able and willing to work in other areas as needed. Must be flexible in taking lunch and breaks when workflow requires. Willing to work additional hours as necessary.
INITIATIVE: Actively participate in continuous improvement of products and processes to better serve customers and improve the overall profitability of TICO. Actively seek out work in other areas when current assignment is complete. Make suggestions for improving product safety, quality, deliver, cost, processes and company profitability.
TEAMWORK: Positive working attitude toward other employees; be a team player. Work with others constructively and abide by company policies and procedures. Working together as a team for continuous improvement is vital to ensure the future of TICO and its employees. Teamwork will be required to be effective in daily production assignments as well as special improvement projects.
CAREER DEVELOPMENT: Attend and participate in a variety of meetings, training programs, and task force groups to integrate activities, communicate issues, obtain approvals, resolve problems, and maintain specific level of knowledge pertaining to changes to equipment or process, new developments, requirements, procedures, and policies.
LEADERSHIP: Lead the team, provide innovative thought leadership on strategies to grow market share, increase profitability, and meet long-term business goals.
ACTION-ORIENTED: Enjoy working hard; is action-oriented and energetic; not fearful of acting with a minimum of planning; seize more opportunities than others.
CONFLICT MANAGEMENT: Step up to conflicts, seeing them as opportunities; read situations quickly; good at focused listening; can hammer out tough agreements and settle disputes equitably; can find common ground and get cooperation.
DEALING WITH AMBIGUITY: Can effectively cope with change; can shift gears comfortably; can decide and act without having the total picture; isn't upset when things are up in the air; doesn't have to finish things before moving on; can comfortably handle risk and uncertainty.
DRIVE FOR RESULTS: Can be counted on to exceed goals successfully; is constantly and consistently one of the top performers; very bottom-line oriented; steadfastly pushes self and others for results.
Physical Requirements:
Lift/Push/Pull- Exerting up to 40 pounds of force frequently, and/or up to 20 pounds of force constantly to move objects.
Climbing- Ascending or descending ladders, stairs, scaffolding, ramps, poles and the like, using feet and legs and/or hands and arms.
Stooping- Bending body downward and forward by bending spine at the waist.
Kneeling- Bending legs at knee to come to a rest on knee or knees.
Crouching/Crawling/Reaching – Bending the body downward and forward by bending leg and spine. Moving about on hands and knees or hands and feet. Extending hand(s) and arm(s) in any direction.
Standing- Particularly for sustained periods of time.
Walking- Moving about on foot to accomplish tasks, particularly for long distances or moving from one work site to another.
The worker is required to have visual acuity to perform an activity such as: operating machines such as lathes, drill presses, power saws and mills where the seeing job is at or within arm's reach; performing mechanical tasks of a non-repetitive nature such as carpenters, technicians, service people, plumbers, painters, mechanics, etc. The worker is required to have visual acuity to operate motor vehicles or heavy equipment.
The worker is subject to hazards: Includes a variety of physical conditions, such as proximity to moving mechanical parts, moving vehicles, electrical current, working on scaffolding and high places, exposure to high heat or exposure to chemicals.
About STS Technical Services
STS Technical Services is a Top 100 Staffing Firm that's partnered with some of the largest names in the aerospace, manufacturing, defense and industrial industries.
Our professional recruitment teams put talented individuals to work at client locations all over the world, and we have hundreds of exciting career opportunities for you to explore!
If you want to speak to a Recruiting Professional directly, call 1-800-359-4787.
STS Technical Services is an equal opportunity employer.
#ZR