NDT Assembly Inspectors
STS
--- STS Technical Services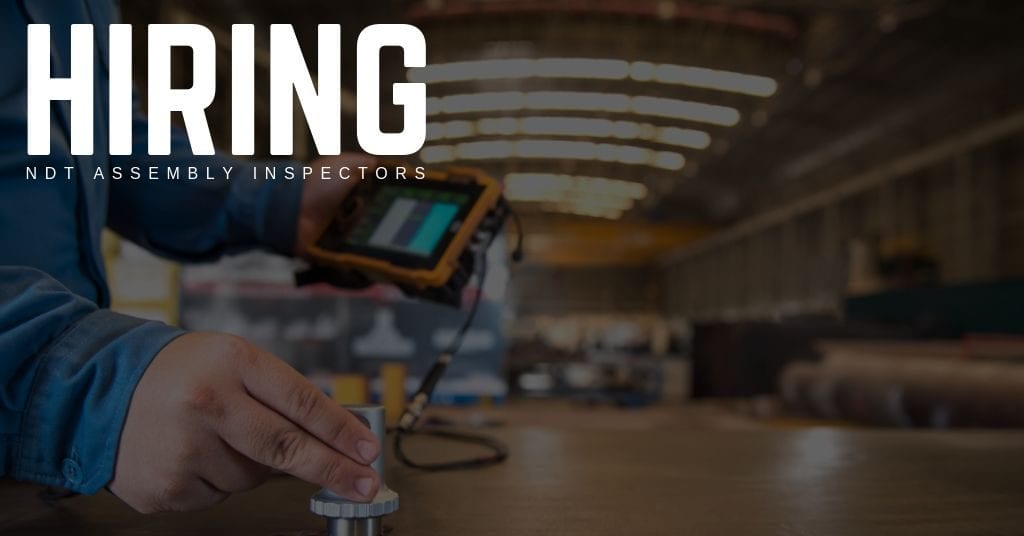 STS Technical Services is hiring NDT Assembly Inspectors in Greensboro, North Carolina.
Job Summary:
Using established methods of inspection, the inspector will be responsible for determining product compliance, developing complex calculations and devising set-ups to perform in-process, first article, and final inspection per operational requirements.
Job Duties:
Set-up and calibration of equipment. Identify NDT problems and recommend solutions.
Interpret and evaluate results with respect to applicable codes, standards, and specifications.
Organize and report the results of nondestructive tests. Exercise assigned responsibility for on-the-job training.
Evaluate test procedures and product compliance to internal and industry specifications.
Conduct tests per written and verbal instruction as required.
Understand and interpret engineering drawings, specifications, and work procedures.
Perform conformity inspection of components, major assemblies, sub-assemblies, and parts during manufacturing, modifications, and installations to determine conformance to applicable drawings, specifications, quality standards, and manufacturing plans.
Identify, document, and track discrepancies using SAP.
Use a variety of inspection aids, and precision testing and measurement equipment such as ohmmeters, output meters, flashlights and mirrors, calipers, feeler gauges, scales, ball gauges, micrometers, etc. as necessary to determine proper adjustment and operation of aircraft systems.
Accurately enter electronic data related to aircraft production, completion, and installation operations.
Focus on manufacturing demands by multi-tasking and meeting schedule deadlines
Seek ways to improve / streamline inspection methods and communication channels
Cooperative behavior and a helpful attitude.
Comply with values and ethical standards and all applicable policies.
Prepares necessary aircraft related FAA, company, and customer documents.
Support other activities as required by company requirements and management direction.
Ability to work any shift and weekends as required.
Qualifications:
High school diploma required. Associate's degree or higher preferred.
Current Ultrasonic (UT) certification preferred.
Current Eddy Current (EC) preferred.
Current Liquid Penetrant (PT) preferred.
Required Knowledge, Skills & Abilities:
Excellent communication skills, both verbal and written.
Proficient using Microsoft Office software, SAP and TeamCenter preferred
Strong interpersonal skills.
Strong attention to details.
Proficient in Microsoft Office (Word, Excel, PowerPoint, Access) and Lotus Notes.
Ability to multi-task, problem-solve and prioritize in a fast –paced working environment.
Proficient use of manufacturing inspection equipment including: calipers, micrometers, optical comparators, plug and thread gages and electronic height gages.
Ability to work independently as well as a team player.
Working knowledge of receiving inspection.
Practical knowledge of ASME codes and standards.
Practical knowledge of inspection techniques using calibrated measuring and test equipment.
Ability to meet ITAR an Export Control Requirements.
Benefits:
STS Technical Services offers direct deposits / electric payroll, an awesome medical insurance program, cash advances, and the opportunity to refer a friend for compensation.
We know it takes great people to do great work, so if you're interested in joining the STS Technical Services family, we encourage you to apply on this page. Have questions? Give us a call at 1-800-359-4787.
Thanks for taking the time, and we look forward to hearing from you soon.