Project Analysts
STS
--- Harley-Davidson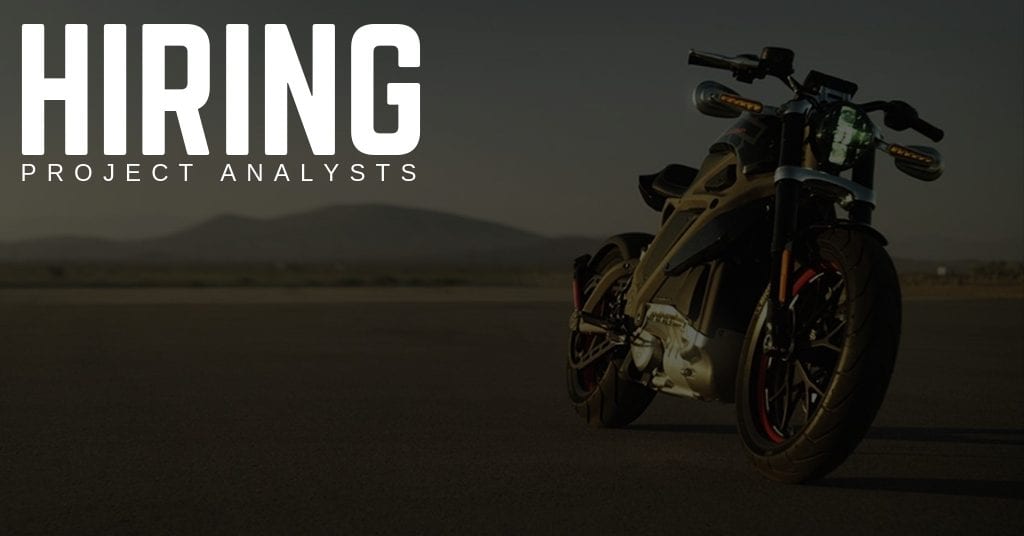 STS Technical Services is now hiring Project Analysts to work for Harley-Davidson in Mountain View, California.
We are looking for a Project Analyst to join our client's experienced team driving the innovation, design and development of EV architectures for Harley-Davidson's future portfolio of HV and LV electric vehicles.
Essential Duties & Responsibilities:
Regularly communicate with cross-functional team members from Engineering, Marketing, Finance, Manufacturing, Packaging, and Purchasing;
Manage special projects and assignments to assist Program Manager and Program Team;
Maintain and manage weekly timing plans (experience in Jira or other project management tools preferred);
Support the mitigation of program-level risks and issues;
Assist with the development and maintenance of a Bill of Materials (experience using data from various systems such as SAP, AS400, Vadar and Windchill PLM);
Generate metrics/reports using Excel tools (i.e. macros, Pivot Tables, Filters, Vlookup, graphs, embedded tables);
Facilitate weekly project status reviews/meetings as needed;
Maintain file sharing structure, maintenance and user access;
Basic Qualifications:
This position requires a Bachelor's Degree, preferably in a STEM-related field
Ability to work cross-functionally with different teams and stakeholders
Comfortable with prioritizing and making decisions with incomplete and ambiguous sets of information;
Excellent written, verbal, and interpersonal skills;
Expert in Microsoft Office Suite;
Experience managing a complex project in JIRA, including user management, system configuration, reporting, issue tracking and workflows, and dashboard creation;
Ability to excel in fast-paced technical environment;
Self-starter attitude with the ability to learn quickly;
Benefits:
The benefit plans available to you are:
Medical/MEC: Minimum Essential Coverage: Affordable Care Act Preventive Care Coverage + Hospital Indemnity and Group Accident
Dental: Full coverage nationwide PPO coverage or HMO option for Florida only
Vision: Full nationwide coverage plan
Short- and/or Long-Term Disability plans
Life insurance for yourself, your spouse, your children
Critical Illness and Critical Accident plans
Have questions? Give us a call at 1-800-359-4787. Interested? Apply now on this page.  Thanks for taking the time, and we look forward to hearing from you soon.