Repair Service Manager
STS
--- STS Technical Services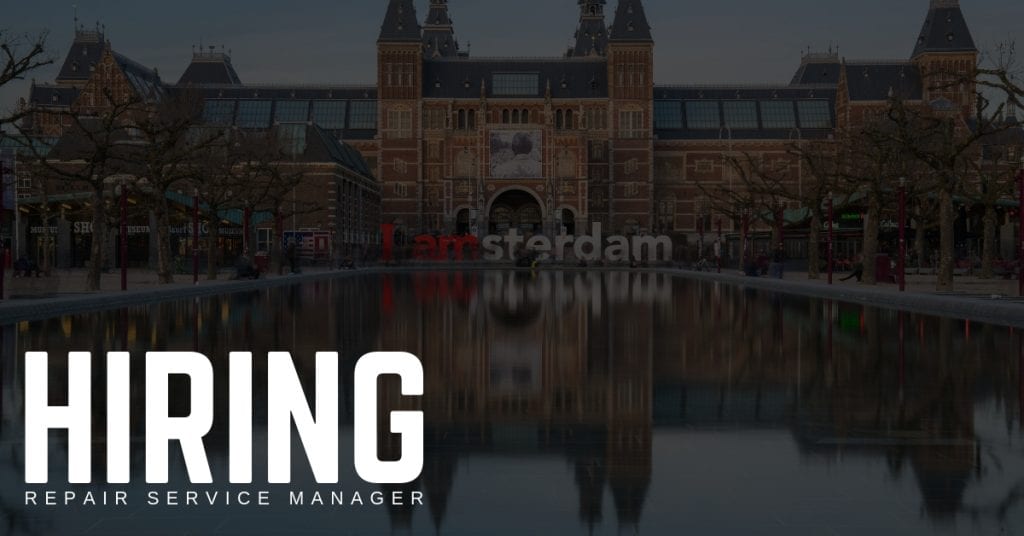 STS Technical Services is hiring Repairmen Supervisors in Amsterdam, The Netherlands.
Hiring Note: Candidates must be able to speak both English and Dutch
Job Summary:
Manages regional maintenance operations for company owned repair stations and the timely return to service of containers.
Additional responsibilities will include: Being responsible for ensuring each repair station adheres to required regulations, training and development of staff and for following programs, processes and methods that ensure a smooth running operation that delivers superior services to our customers. He/She is responsible for the operation of the company owned service network in their region. This includes the operation of all present and future company satellite facilities located in the region.
Responsibilities:
Maintain compliance with current FAA / EASA regulations, inspection/compliance standards, company policies and procedures.
Responsible for ensuring FAA / EASA regulatory documentation and company records are maintained as required.
Promote an understanding of quality and regulatory requirements among maintenance staff.
Interact with customers and regulatory officials as needed.
Implement measures to ensure all Company containers are maintained in airworthy condition.
Assist in planning, scheduling and forecasting maintenance activities and managing the regional maintenance network budget.
Ensure adequate inspection aids, special tools and equipment is available and inspected/maintained in serviceable condition.
Develop training regimen to ensure all maintenance personnel performing inspection, maintenance and return to service functions are appropriately qualified.
Ensure all tools and test equipment are inspected and maintained in a serviceable and, when applicable, in calibrated condition.
Ensure accurate and timely execution of all required inspection records, reports and forms.
Ensure incoming parts receive an incoming inspection (receiving inspection) to determine airworthiness prior to being approved for installation and required traceability documentation present.
Develop local vendors as needed.
Partner with Company Quality Department to ensure acceptable standards are in place and maintained for those that supply products, services or materials directly related to container airworthiness.
Perform periodic maintenance record audits, site audits and systems audits to ensure completeness and accuracy and compliance with current regulations, company maintenance programs, Airworthiness Directives etc.
Demonstrate awareness of and support of company goals through participation in continuous quality management and company activities.
Education:
Associate degree, and MBO degree or equivalent on-the-job work experience
Preferred Experience:
5 years' experience in a product maintenance and manufacturing oriented environment.
Experience must include managing the maintenance functions. Managing a multisite organization preferred.
Interacting with local Federal Aviation Administration (FAA) / EASA inspectors.
Experience in a regulated industry (FDA, FAA) preferred.
Managing maintenance operations in a CFR Title 14 Part 145 compliant system preferred.
Abilities, Knowledge & Skills:
A thorough knowledge and understanding of FAA/EASA Regulations.
Possess or able to obtain valid Federal Aviation Administration (FAA) Repairman Certification or EASA equivalent.
Proficient in Microsoft Office Suite and with industry standard component control and tracking programs.
Excellent verbal and written communication skills, able to communicate effectively with varying levels of an organization.
Solution oriented with an ability to take initiative; creating, implementing and improving policies and procedures.
Possess good organizational skills and the ability to multi-task and work in a fast passed environment.
Work Environment:
Office & shop environment, some travel (less than 50%)
Benefits:
22 Days Vacation/Holiday
Sick Time/ADV Days
Pension Plan w/ company match (100% match up to 6%)
Holiday Allowance (8%)
Transportation Allowance
If you would like to learn more, please call 1-800-359-4787. Thanks for taking the time, and we look forward to hearing from you soon.