Rotary Aircraft Quality Inspectors
Rotary Aircraft Quality Inspectors
STS
--- STS Technical Services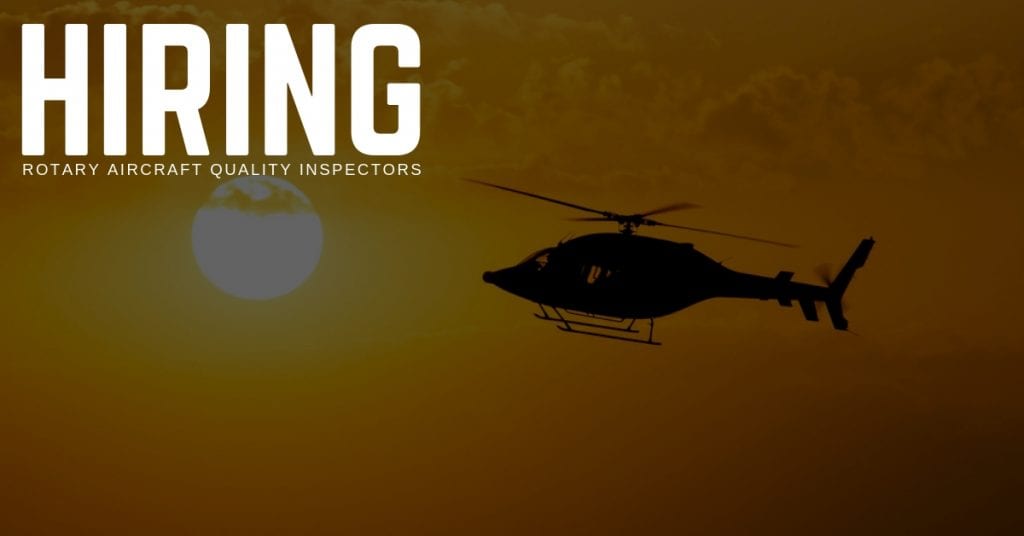 STS Technical Services is hiring Rotary Aircraft Quality Inspectors in Belle Vernon, Pennsylvania!
Perform inspection of aircraft components during their assembly, installation, and adjustment to insure that the workmanship and materials conform to the aircraft manufacturers' specifications, maintenance manual procedures and FAR requirements.
Essential Duties & Responsibilities:
Ascertain that all inspections are properly performed on all completed work and that the proper inspection records, reports, and forms used by the Repair Station are properly executed prior to releasing the product for return to service.
To ensure that all maintenance is performed in accordance with generally accepted industry standards and maintenance practices, appropriate FAA regulations, manufacturer's recommendations and the operator's manual.
Determining parts Certification and serviceability.
Assisting in Repair Station training and Training Records
Performing internal Repair Station audits and assisting with external audits of Repair Station suppliers and service providers.
Performing aircraft area and panel closeouts. ? Assuring proper execution of FAA Form 337, 8130-10 and 8110.
Ensuring that all Repair Station activities are consistent with the limitations of the Repair Station certificate and Service Center requirements.
Perform random checks of Repair Station Manuals to ensure currency.
Assume the duties of the Chief Inspector when absent.
Determining that no defective, unserviceable, or un-airworthy parts are installed on any aircraft, engine, or component thereof released by the Repair Station for the purpose of return to service.
Conducting preliminary, hidden damage, in process, and final inspection of all articles processed by the Repair Station.
Performing the receiving inspections on incoming material.
Assuring the proper tagging and identification of all parts and components as outlined in the Repair Station / Quality manual and final disposition of rejected parts.
Ensuring that incoming and outgoing aircraft records are complete and accurate.
Performing weight and balance computations ? Compliance in obtaining STC or Field approvals ? Work order review
Qualifications:
A basic understanding of electrical/electronic theory.
2 years of avionics installation experience.
Knowledge of avionics systems.
Experience on Bell, Airbus, Agusta products is preferred but good rotorcraft experience will be sufficient if it's not on these models.
Must be able to demonstrate knowledge of the use of Aircraft Maintenance Manuals and proper documentation of the work performed.
Must possess basic computer skills using the English language
What We Offer:
STS Technical Services works with the largest names in the aviation industry, offering hundreds of career opportunities across the United States. With over two decades of experience, we soar in our commitment to excellence and professionalism. We proudly offer competitive rates, direct deposits, medical insurance, cash advances, and referral bonuses.
If you would like to speak with an Aviation Recruitment Professional directly, call 1-800-359-4787. Our job placement services are always free, and we are open seven days a week. Reach out at any time! Thanks so much for your interest in working with STS AeroStaff Services, and we look forward to speaking with you soon.