Senior Service Diagnostics Engineers
Senior Service Diagnostics Engineers
STS
--- STS Technical Services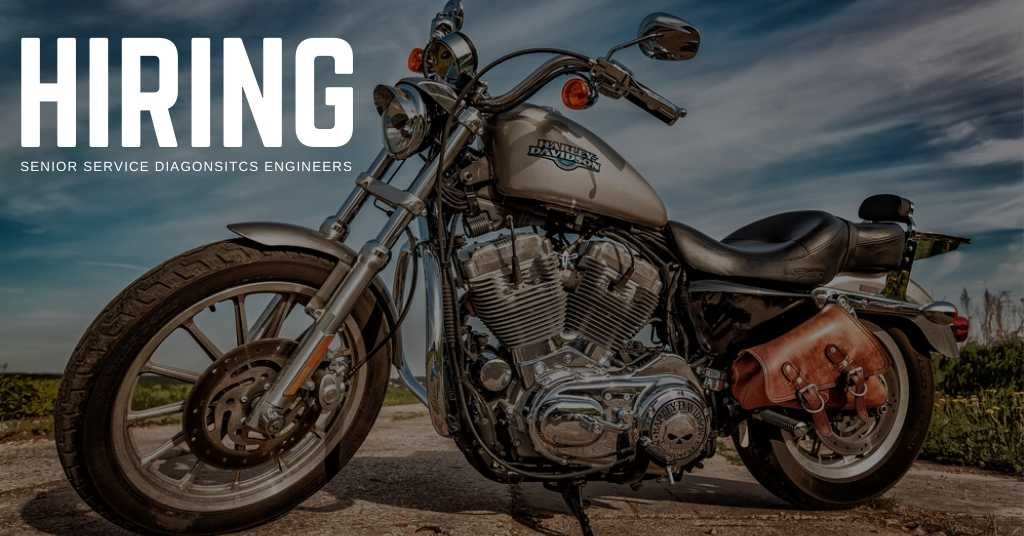 STS Technical Services is hiring Senior Service Diagnostics Engineers for Harley Davidson in Wauwatosa, Wisconsin.
We are paving more roads to Harley-Davidson by developing exhilarating new products, creating broader access to our iconic brand, and building a stronger dealer network. We can't do it without the best and brightest. Step one of this strategic acceleration is adding talent who can blow the doors wide open with innovation and creativity while staying true to the Harley-Davidson brand and legacy. We are focused on the next 115 years. Are you in?
The Harley-Davidson Motor Company Product Development Center (PDC) located in Wauwatosa, WI is home to the mantra – You dream it. We build it. Join our team as a Senior Service Diagnostics Engineer.
Job Summary:
The Sr. Diagnostics Engineer reports to the Service Engineering Manager and is a member of the Product Development Team (Engineering, Styling, Manufacturing, Supply Management, Service and Finance) that creates the next generation of Harley-Davidson motorcycles. This role is an integral member of the H-D product development process by representing the Service perspective during all phases of product design & development.  This position is the recognized authority regarding motorcycle electrical and electro-mechanical diagnostics and serviceability and is a key resource in addressing Service-related questions and concerns from other departments and Company stakeholders. The Sr. Engineer Diagnostics is responsible for leading the development, validation, and implementation of the diagnostic strategy for H-D.  The individual will engage directly with Product Design Engineers and Suppliers to design & develop the next generation of Service diagnostics capabilities.
Duties & Responsibilities:
Develops Service electrical diagnostics/diagnostic strategy to troubleshoot all vehicle control systems; work directly with Vehicle Architect throughout development & validation processes
Leads development of new Service-related diagnostics, techniques, and tools that will be utilized by H-D's Global Dealer Service Network.
Ensure all new motorcycle models are incorporated into the next generation of diagnostic tools
Represents Service in the requirements-setting process of motorcycle product development
Provides design recommendations and approvals for vehicle serviceability and cost of ownership on multiple product development projects and programs
Develops service procedures that are used by Dealer Technicians to set-up, maintain, and repair customer motorcycles
Reviews drafts of Service communication as subject matter expert for service procedures and methodologies
Identifies diagnostic and special service tool requirements, and coordinates their design and delivery with suppliers
Develops service procedure flat rates to support the Warranty Job Time/Code process
Qualifications:
Minimum of 5 years of related industry experience
Working knowledge/understanding of the relationships between individual electrical components/system function and overall product performance
Experience with a variety of communications protocols used for on-board vehicle diagnostic systems (OBD) through the Electronic Control Unit (ECU), including but not limited to UDS, KWP2000, CAN bus, LIN
ECU development/validation/test tool development
Experience trouble-shooting a variety of ECUs, including but not limited to BCM, ECM, TCM, EBCM, EHCU, etc.
Experience using Diagnostic Trouble Codes (DTC's) to support vehicle electrical diagnostics
Motorcycle diagnostic and repair capabilities as demonstrated through work history &/or accredited Technician Certification
Valid motorcycle license is preferred, including Motorcycle Safety Foundation (MSF) rider certification
Advanced knowledge of Harley-Davidson motorcycles and accessories is preferred
Ability to analyze data and identify creative solutions to technical problems
Strong project management (PM) skills, including experience using formal PM tools/software
Effective verbal & written communication and interpersonal skills
Bachelor's degree in Electrical Engineering, Computer Science or a related technical degree is required
What We Offer:
We offer an inclusive compensation package for all full-time salaried employees including, but not limited to, annual bonus programs, health insurance benefits, a 401k program, onsite fitness centers and employee stores, employee discounts on products and accessories, and more. We believe that employees do their best work when they are free to be themselves. This means our dress code is relaxed, and all types of work styles are welcomed.