Service Advisors
STS
--- Cirrus Aircraft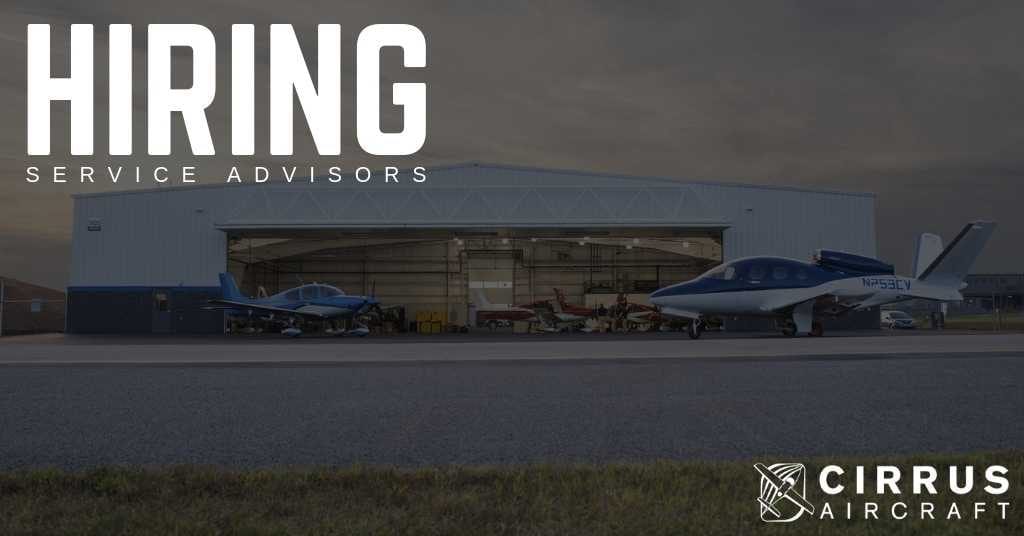 STS Technical Services, in partnership with Cirrus Aircraft, is hiring Service Advisors in McKinney, Texas!
Job Summary:
The Service Advisor is the primary interface between the customers of the Factory Service Center and the personnel at the facility. The Service Advisor has ownership and influence over the aircraft maintenance schedule and the capacity of the facility to schedule and coordinate aircraft maintenance, modifications, and service bulletin/advisory compliance including airframe, avionics, and engines. The Service Advisor will build work packages, including labor and required parts, based on the type of service performed.
Job Duties:
Directly communicates with customers to schedule aircraft operators into the service center for maintenance, modifications, and service bulletin/letter compliance (Includes airframe, avionics, and engines)
Based upon services requested by the customer, coordinates with parts department to pre-order known required parts and service bulletin kits. Also, pre-arranges outside services with vendors to ensure all requested work can be accomplished within the schedule pre-arranged with the customer. Needs to cross reference aircraft information on arrival to ensure all known inspections and maintenance is planned or customer is made aware
Develops cost estimates to accomplish inspections, modifications, after market installations, and service bulletins
Develops reference system to provide retrievable information regarding labor hours, parts cost, etc., regarding frequently quoted services, bulletins, and modifications
Keeps current on revisions to inspection requirements, changes in parts prices (particularly service bulletins) warranty status of scheduled aircraft/bulletins, revisions to FAR's and other data that could affect price quotes or customer "down time"
Maintains a current customer file in Salesforce to include: customer name, account number, contacts, phone numbers, address, aircraft unit, serial, and registration number
Markets the center's service capabilities to new customers with the center's market area
Conducts a thorough repeatable analysis of the customers' aircraft maintenance history, additional customer requests, service bulletins, air worthiness directives and provides detailed schedule options with lead-times and downtime so the customer can make an informed decision. Includes all CUSTOMER and DEMO aircraft
Prepares necessary documents into package prior to the customer's arrival and presents them to service center management for customer debrief
Prepares a weekly maintenance schedule (with a two-week window) for distribution to all departments within the center while maintaining an accurate schedule
Attends daily /weekly crew chief/supervisory meeting, prepared to discuss pre-arranged services, parts/kit availability and other factors that influence the customer's due-out schedule
Coordinates for special projects such as modifications, engineering issues
Keeps current knowledge of the quality inspection requirements that could affect a work scope maintenance event or the ability of the service center to work on a scheduled aircraft
Responds to customer request and concerns in a timely and professional manner
Verify that work requested falls within the financial credit limit of the customer's account and or maintenance program and provides alternate options if it does not
Daily manages the capabilities of the shop as to not overload or under-utilize resources, must ensure daily effective communication with DOM, Mechanic Leads, Avionic Leads, and others that support aircraft arrival, maintenance and departure to ensure customer satisfaction
Involves him or herself in the daily decision process of maintenance within Bay assigned and coordination with other Bay schedules to ensure an accurate schedule
Support coordination and planning of scheduled aircraft maintenance visits
Perform a variety of routine clerical and administrative support duties printing and assembling work packages, data management, reports
Schedule and help coordinate pre-induction meetings
Assist with audits, updating schedules and capacity charts, communication with internal customers, identifying and ordering parts and materials
Learn about Cirrus Aircraft maintenance programs, Proposal and Sales processes, Scheduling and Capacity Planning, factors influencing aircraft visit span times and intricacies involving aircraft work packages
Provide updates to the customer during aircraft repair process
Qualifications:
Bachelor's Degree in business or related field
Customer service skills
Strong communication skills written and verbal, editing ability a plus
Have organizational skills ability to prioritize and work independently, attention to detail, meet deadlines, multitask and balance assignments
Interpersonal skills work in team of dynamic individuals, ability to remain professional through stressful situations.
Excellent customer service skills.
Basic proficiency with Microsoft Office Suite (Outlook, Word, Excel, PowerPoint & Access).
Understanding of aircraft systems and repairs is preferred.
Demonstrated Proficiencies/Skills/Abilities:
Must be able to demonstrate the ability to read, write and speak the English language.
Good understanding in the operation of standard office equipment and Microsoft office applications including: Word, Excel, PowerPoint, and Outlook
Great verbal and written communication skills, editing ability a plus
Hiring Note:
Please note that this job description is not designed to cover or contain a comprehensive listing of activities, duties or responsibilities that are required of the employee for this job. Duties, responsibilities and activities may change at any time with or without notice.  Overtime hours may be required.
Benefits:
Since this is a direct hire job, Cirrus Aircraft will provide a full benefits package to you. If you would like to learn more about that package, please call 1-800-359-4787.
Thanks for taking the time, and we look forward to hearing from you soon.