Shipping & Receiving Clerks
Shipping & Receiving Clerks
STS Technincal Services
--- STS Air-Pro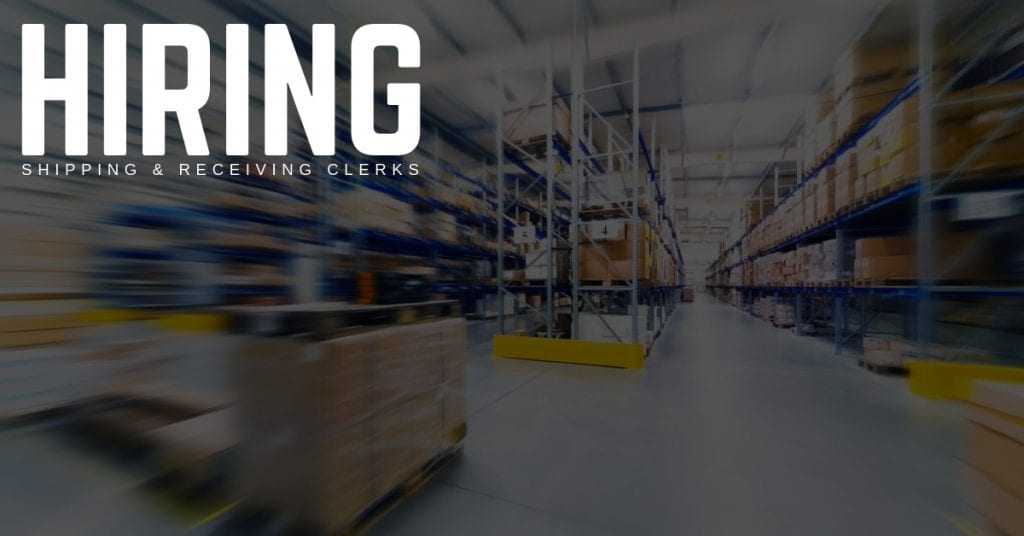 STS Air-Pro is hiring Shipping & Receiving Clerks in Miramar, Florida.
Qualifications:
High School Diploma, or Equivalent.
Previous experience in warehouse / distribution packaging, shipping (minimum 1 year required).
Nature of Work:
Material verification based on company policies, procedures, customer and regulatory requirements.
Prioritize daily shipments based on expected delivery date & carrier pick-up times
Handle and pack material properly as to prevent possibility of damage during transit. Packaged in accordance with policy, procedures, customer & regulatory requirements
Produce transportation documentation either manual or electronic for all domestic and international shipments (Includes hazardous material) in accordance with policy & procedures customer requirements, and United States & Foreign regulatory requirements.
Load and unload daily shipments with motorized and (or) electrical lift truck / pallet truck.
Assist with pulling inventory for stock orders, organize trace and source documentation for orders, verify information in inventory management system for accuracy and updates stock lines as required.
Assist with Inventory receipts through inventory management system, & conducts inventory cycle audits in accordance with documented policies, standard operating procedures when required.
General warehouse maintenance and upkeep.
Desired Characteristics:
Fork Lift Operation
Organizational Skills
Attention to Details
General Qualifications:
Shipper inspects material to ensure proper identification, quantities, and documentation.
Preserves and packages products for shipment, produces shipping labels and documentation for transport of package(s).
Shipper must be familiar with concepts, practices, and procedures carried out during daily warehouse operations of the same or similar type business.
Works under general supervision.
 His or her Immediate Supervisor is the Lead Inspector.
About STS Air-Pro:
STS Air-Pro is a globally renowned manufacturer and distributor of Teflon, Metal and Rubber Hose Assemblies.
Today, STS Air-Pro is one of the largest suppliers of hose assemblies and hose kits to the commercial airline, MRO, military, industrial, ground power, general aviation and rotorcraft markets. Visit our website today at www.stsaviationgroup.com/air-pro to learn more.
#ZR