Sr. Task Implementation Analysts
Sr. Task Implementation Analysts
STS
--- STS Technical Services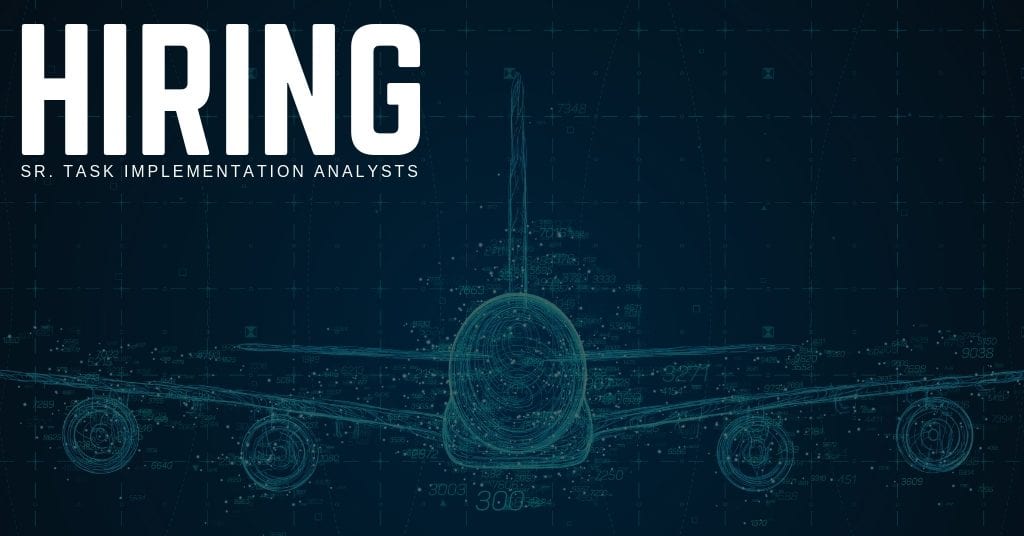 STS Technical Services is hiring Sr. Task Implementation Analysts in Chicago, Illinois.
Position Overview:
Our client is looking for an innovative, detail-oriented individual with strong data analysis skills and knowledge of aircraft maintenance and Maintenance Programs to support the implementation of the scheduled maintenance programs for our client's aircraft fleet ensuring packaging of program maintenance requirements optimize aircraft safety, reliability, and availability. The team you'll be working on supports key operational initiatives that improve competitiveness. Work with our client's partners with Line and Base Maintenance, Planning, Methods and Standards, Maintenance Programs, Aircraft Records and other Tech Ops organizations to implement aircraft maintenance program changes.
Essential Duties & Responsibilities:
Gather and analyze maintenance data from various sources to determine optimal packaging solution.
Coordinate implementation and execution of maintenance program changes
Analyze maintenance non-routine findings to make adjustments to existing scheduled aircraft maintenance
Identify optimal packaging solutions and coordinate implementation of maintenance program changes with line and base planning.
Facilitate routine review of non-routine findings and determine optimal intervals for task accomplishment
Develop implementation plans and packaging requirements for revisions to the routine maintenance program
Determine the effect of routine maintenance program changes and notify affected work groups of the pending changes and potential impact
Coordinate and sequence implementation of revisions to the maintenance program with all work groups that will be part of the implementation process, as well as the affected workgroups that will ensure compliance
Monitor and report status of implementation on approved maintenance program revisions
Monitor and analyze inspection and routine check data for potential revisions to compliance, packaging methods or to allow for improved yield efficiencies
Manage the implementation of new fleet type maintenance programs
Provide assistance working with maintenance programs in support of other divisions involved with new fleet type introductions, bridging of aircraft inductions and transfers, aircraft sales, lease returns and exits
Gather and analyze data from various sources to complete scheduled and ad-hoc reports and monitor and report status of implementation of approved maintenance program revisions
OJT support to other analysts on processes / procedures
Required Qualifications:
Associate's Degree or equivalent commercial or military work experience
3 years Maintenance Program background and / or 3 years conducting or supporting aircraft maintenance experience
Strong project management and implementation skills
Strong verbal and written communication skills
Experience in applying a big picture perspective in identifying and resolving problems and assessing the impact of work across functional areas
The ability to identify and define critical steps and activities required to implement change
Must be legally authorized to work in the United States for any employer without sponsorship
Successful completion of interview required to meet job qualification
Reliable, punctual attendance is an essential function of the position
Preferred Qualifications:
SCEPTRE functionality knowledge
Strong Skills in MS Office applications (Excel, Word, Powerpoint, etc.)
Maintenance Program CFR's and concepts
Airframe, Powerplant and / or E license
Lean or Six Sigma certification
Benefits:
Since this is a direct hire job, our client will provide a full benefits package to you. If you would like to learn more about that package, please call 1-800-359-4787.
Thanks for taking the time, and we look forward to hearing from you soon.