Supply Chain Planning Specialists
Supply Chain Planning Specialists
STS
--- STS Technical Services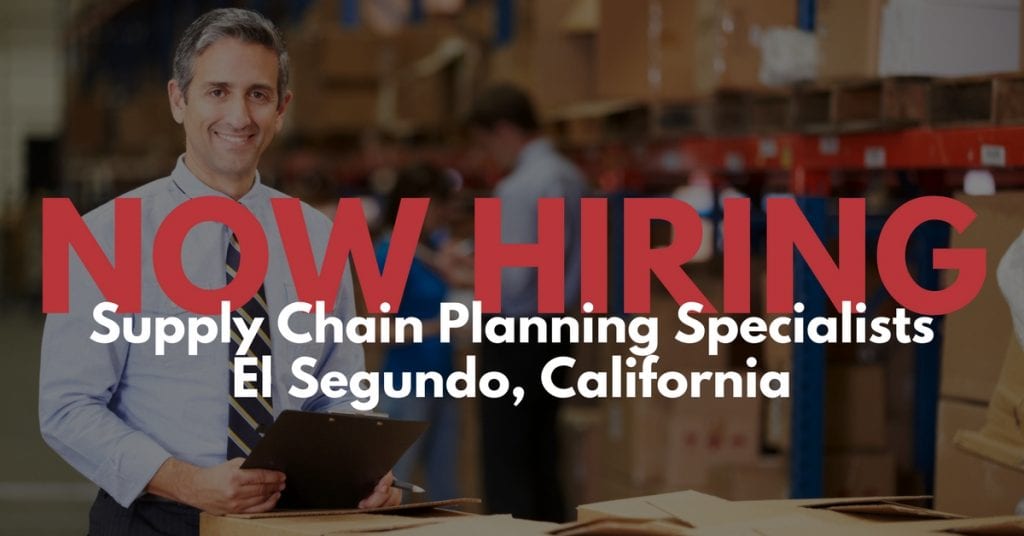 STS Technical Services is hiring Supply Chain Planning Specialists in El Segundo, California.
Note: Our staffing services come at no cost to you, the candidate. This is job seeking made simple! For more details, please contact our recruiters at 1-800-359-4787.
Job Duties:
Defines and develops material strategy
Responsible for the assessment of supply resources; aggregates and prioritizes demand requirements; plans inventory, distribution requirements, production, material and rough-cut capacity for all products
Participates in make/buy process, long-term capacity and resource planning; product phase-in/phase-out, manufacturing ramp-up, end-of-life management and product-line management
Analyzes and aggregates supply / demand requirements
Analyzes purchase material supply/demand position using Material Requirements Planning (MRP) tools
Plans inventory levels based on dependent and independent Bill-of-Materials (BOM) requirements
Assesses rough-cut capacity for current and short-term manufacturing requirements
Creates/reduces supply requirements based on inventory adjustments
Participates in long-term capacity and resource planning to ensure proper scheduling of new product line phase-ins as well as existing product line phase-outs
Interfaces with Source process area regarding inventory levels, working capital and other areas as needed
Creates/releases requisitions
Receives/reviews requirements for non-standard parts
Analyzes lead times and identifies critical path procurements
Use and/or application of principles, theories, and concepts
Demonstrates the skill and ability to perform professional tasks
Develops solutions to a variety of problems of moderate scope and complexity
Works under only very general supervision
Contributes to the completion of organizational projects and goals
Frequent internal company contacts
Represents section or group on specific projects
Qualifications:
Bachelors in Supply Chain Management or related major
Knowledge of industry practices and standards
Benefits:
STS Technical Services offers direct deposits / electric payroll, an awesome medical insurance program, cash advances, and the opportunity to refer a friend for compensation.
We know it takes great people to do great work, so if you're interested in joining the STS Aviation Group family, we encourage you to apply on this page. Have questions? Give us a call at 1-800-359-4787.
Thanks for taking the time, and we look forward to hearing from you soon.