Technical Recruiters
STS
--- STS Technical Services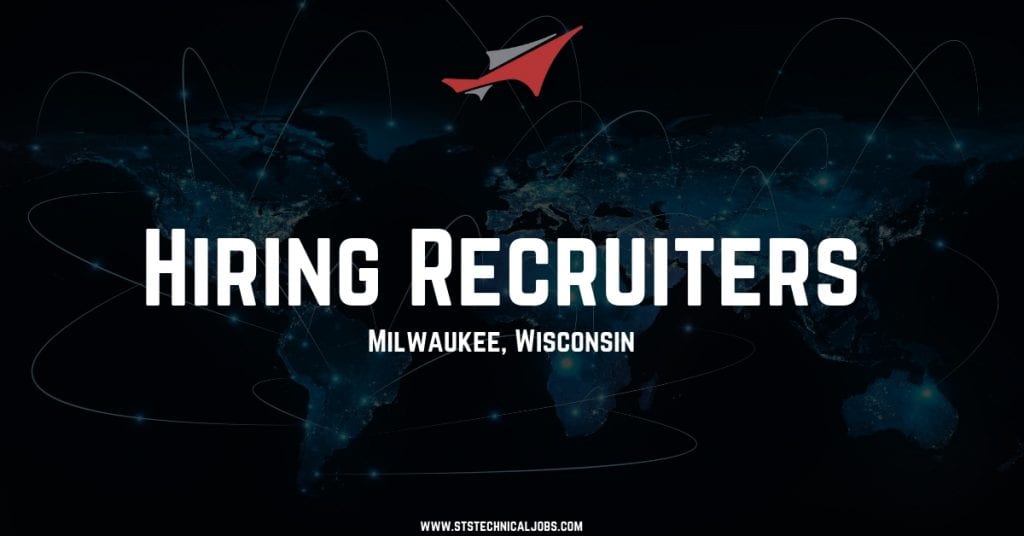 If rewarding company culture and career growth are terms that pique your professional interests, then you're going to want to perk up and pay attention to the following…
STS Technical Services is now hiring Recruiters to join our award-winning, RPO staffing team in Milwaukee, Wisconsin. If hired, you will work directly for STS Technical Services in support of our client, one of the largest, most recognizable brands in the world.
We offer a competitive salary, excellent employee benefits and a great commission's package alongside the opportunity to grow with one of the Top 100 Staffing companies in the United States.
What you can expect:
A competitive salary and generous commissions
Full benefits including medical and dental
14 days of paid time off per year to start
Tremendous growth opportunities
An award-winning company culture
At STS Technical Services, we treat our employees like family. We nurture and guide their careers down the path of success and promise to work with them every step of the way to ensure prolonged professional happiness and complete job satisfaction.
Educational Background/Experience:
Technical, light industrial and / or  manufacturing recruiting experience in qualifying, interviewing, and selecting personnel for temporary or direct labor is highly preferred
Relevant office and sales experience is required
A Bachelor's Degree is highly preferred (In lieu of a degree we will consider someone with at least three years of recent Recruiting experience)
General Qualifications/Knowledge, Skills, Abilities (KSA):
Excellent communications skills
Ability to work with computer systems
Resourceful
Effective Problem Solver
Self-motivated
Quick Learner
Thrive in fast paced environments
Enjoys a challenge
Nature of Work:
Attracting the most qualified employees available and matching them to the open positions for which they are best suited
Screen, interview, test, qualify and hire applicants using the Company's computer database in documenting all recruiting efforts and comments
Review resumes and make outbound contacts from various resources
Follow up with employees that complete or terminate assignments and route to another assignment
Obtain referrals from candidates and follow up with referrals
Recruiter will become thoroughly familiar with the Company including being the expert on job site wages and benefits, advances, payroll, and working conditions of assignment
Maintain rapport with candidates after hire in order to provide excellent customer service and place candidate for subsequent assignments
Recruiter must be a team player, quick learner and thrive in fast paced environments
Desired Characteristics:
Must be assertive and able to effectively converse with applicants using industry terminology
Must have pleasant and outgoing personality and enjoy working with people of different levels of education and experience
Must be willing to devote many hours on the telephone and at the office
Must be flexible, adaptable, and patient
Must be determined, persistent and thorough
Classification:
Exempt Salaried – Full Time Regular – All other salaried employees (except non-exempt salaried and officers/executives) not subject to the overtime pay provisions of the Fair Labor Standards Act
Promotions & Growth:
Promotions are based on employee's performance
If you have questions, please call 1-800-359-4787. Otherwise, all interested applicants are encouraged to apply directly on this page. Thanks, and best of luck!