Test Technicians
STS
--- Oshkosh Defense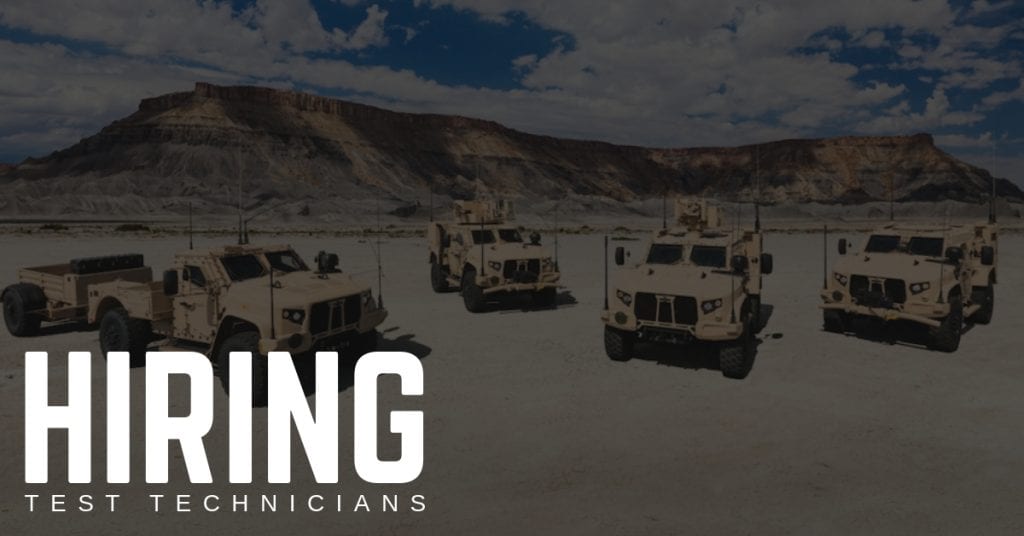 STS Technical Services is hiring Test Technicians in Fort Huachuca, Arizona.
In this role, you will work to test brand new military vehicles and support engineers testing vehicles and parts/components. This role may also provide support in the fabrication and assembly of vehicles and related systems/sub-systems. The objective is to validate new product designs as part of new product development as well as resolve issues on sustaining products. This is a tremendous opportunity to work for a company that holds industry leading standards for defense and also is on the leading edge of an industry boom.
Contract Length – 1-2 years
Security Clearance – This role will allow you to obtain and maintain a Secret Military Clearance.
This contract would offer you the opportunity to work on the Military's most advanced heavy wheeled vehicle – the JLTV as well as brand new test vehicles never been seen.
Essential Duties & Responsibilities:
Execute unit and system level verification tests in accordance with established test plans.
Support integration and verification testing at offsite locations and collaborate with electrical and software engineers to identify, define, and resolve issues that are identified during integration and commissioning tests.
Interpret data logs to identify issues for engineering investigation.
Support the hardware and software installation and commissioning of embedded controllers, sensors and network architectures including CAN and Ethernet.
Assemble and install the electrical and electronic systems according to provided engineering data of schematics interconnect diagrams.
Troubleshoot and identify root cause for electrical issues with harnesses, cables, and assemblies to determine a corrective action of repair or replace.
Conduct final inspection of installation prior to customer acceptance.
Plan and schedule daily activities to complete assignments in their order of priority to make effective use of time and ensure projects are being completed within identified timeline.
Communicate effectively and work cross functionally to resolve technical problems including the ability to provide constructive feedback to all levels of the organization. Interpret and execute written/verbal directions and instructions.
Required Qualifications:
Associates Degree or 5 years' experience in engineering or equivalent
Strong understanding and knowledge of the electronics of vehicle systems (advanced driver systems, drive-by-wire, imbedded controllers, & network architectures (CAN and Ethernet)
Ability to obtain a Commercial Driver's License (CDL) or a Telehandler and AWP operator license
About STS Technical Services:
STS Technical Services places Mechanics, Engineers, veterans and technical professionals into contract and direct hire positions across the U.S. We work with some of the largest corporate names in the country, and we have hundreds of opportunities for you to explore! If you have questions, please call 1-800-359-4787. Otherwise, all interested applicants are encouraged to apply directly on this page.