Welcoming Becky Hughes to the STS Technical Services' Family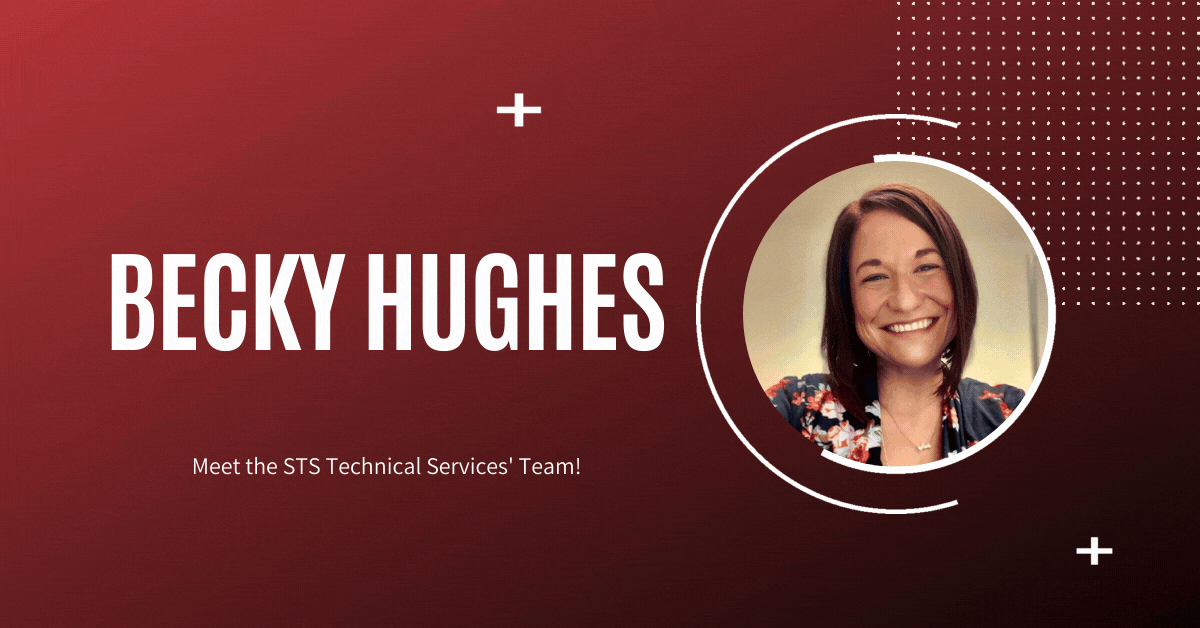 Becky Hughes comes to us with years of professional experience. She joined our team a few week back as its newest Technical Recruiter working RPO for Wacker Neuson in Menomonee Falls, Wisconsin.
If you are interested in getting to know Becky, check out the Q&A we did with her shortly after she was onboarded.
Becky, welcome to the STS Technical Services' family. We are thrilled to have you!
Tell us a little about your professional background, education and / or experience?
I went to school at the University of Wisconsin – La Crosse and graduated with a degree in Management (HR emphasis.) I've had the opportunity to work for a handful of diverse companies in the La Crosse area, spanning a variety of industries (organic foods, healthcare, child care, public accounting, manufacturing and recycling, marine construction, and banking.)
I've enjoyed the wide range of responsibilities in the HR field and have had the opportunity to be involved in labor relations/contract negotiation, complex employee relations situations, talent development, succession planning, compensation & benefits, performance management, and onboarding/offboarding. Like for many, the pandemic put life in perspective, and I recognized quite clearly that recruitment and talent acquisition are my preferred areas of concentration within the HR field. I started my career as a Recruiter at Organic Valley, and I hope to focus the rest of my career in talent acquisition as well. What's more fun and rewarding than offering someone a new job that they'll love?! 🙂
What do you like to do for fun when you are not working?
When I'm not working, my life pretty much revolves around my daughters (Marley, a sophomore & Maya, a 7th grader.) I'm not a stereotypical "dance mom," but most of my evenings consist of driving them to and from dance class and Nutcracker rehearsals! The three of us love to bond over Netflix binges, ice cream, and coffee – just call us the Gilmore Girls. 😉
I love the outdoors – hiking, kayaking, boating, morel mushroom hunting, and exploring. I tend to be cautious by nature, but I do love a good thrill (rollercoasters, skydiving, zip lines, etc.) or hitting the road for a long road trip with a solid soundtrack. In my humble opinion, concerts are underrated, and I can't wait to hit some more shows post-pandemic! Foo Fighters, Jason Isbell, and Bruce Springsteen are at the top of my list, but I will definitely see Pearl Jam, Taylor Swift, and Garth Brooks again at some point! Otherwise, give me a good book and a hammock or fireplace, and I'll stay out of your way for hours.
Oh, did I mention I grew up in Rochester, MN, and I'm a faithful Vikings fan?! (They WILL win a Super Bowl before I die!) Skol!
If you could be any superhero, which superhero would you be and why?
Hands down, I'd go with She-Ra! She is known for being a positive role model for girls as well as her strength (ability to lift grown men, robots, boulders, and buildings over her head), acrobatics, and speed. Her character is also nurturing and empathetic with an ability to communicate with animals. She is mostly non-violent and engages in combat only as a last resort. Instead, she uses her intelligence and wits to outsmart her enemies – and how much more powerful can you get than that?! 🙂
Read More: